This just in: a night in the lives of D-FW's late night newscasts (Mon., Nov. 12)
11/13/07 01:50 PM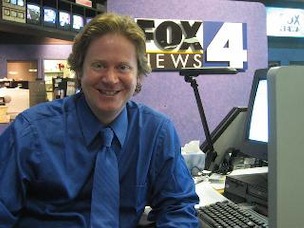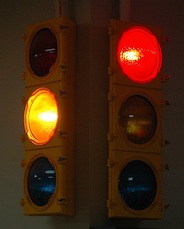 Fox4 reporter Paul Adrian shed some light on traffic signals.
By ED BARK
Lights, cameras, ratings "sweeps" investigations.
Paul Adrian
's was a very good one, though. The intrepid Fox4 investigator took a lengthy look Monday at intersections both with and without those ticket-inducing "red light" cameras.
Some motorists are convinced that shorter caution lights at such intersections are more by design than happenstance. Less time in the yellow zone would cause more motorists to either brake suddenly or proceed against the red and be ticketed. A second or even a half-second can make a big difference.
Adrian's springboard was Dallas driver Dan Seago, a proponent of the cameras who nonetheless believes that the caution lights are getting shorter and more dangerous at intersections where a picture is worth a considerable fine. Through Oct. 31st of this year, the 60 red light camera intersections in Dallas have generated just over $8 million in traffic tickets, Adrian said on Fox4's 9 p.m. newscast.
He timed a few of the lights but mostly dug further into statistics and questioned at-odds experts. It can be a tough story to tell on television, and even harder to communicate in print. But Adrian
spelled it all out
in relatively painless fashion without any showboating.
City of Dallas traffic engineer Elizabeth Ramirez assured him that "we have not changed or shortened the yellow time at intersections with red light cameras."
But the Texas Department of Transportation follows an Institute of Transportation Engineers recommendation that yellow lights should last for at least 3.5 seconds at all intersections. Less than that increases the possibility of accidents, Adrian was told.
Dallas isn't required to follow those guidelines, and indeed doesn't. Yellow signal lights at 21 of the city's red light camera locations are shorter than TxDOT's recommendations, Adrian found.
This takes plenty of painstaking work, and Adrian should be commended for both compiling this information and then giving all sides their say. And In the view of city engineer Ramirez, "the formula we're using (for yellow light timing) is already conservative."
Adrian lately has emerged as Fox4's fairest and most effective investigative reporter. His stories actually amount to something of worth and value to viewers.
At roughly the same time on CBS11, investigator
Bennett Cunningham
presided over an appreciably less effective look at airport security checkpoints. Rules in effect since August of last year, limit carry-on bottles and tubes to no more than 3 ounces of liquid apiece. But Cunningham's small bag of intentionally over-the-limit items (most containing roughly 4 ounces of various liquids) made it through various D-FW checkpoints 20 out of 20 times, he reported.
Airport security obviously is a serious matter. Still, most travelers seem to think these new restrictions are an over-reaction. So the reporter might be gaining points with with the two Texas legislators he interviewed, but not with the upcoming rush of holiday travelers.
"My guess is after this airs, you'll have more effective screening at D-FW," said UT Dallas professor Jennifer Holmes, who's written some books on terrorism.
She didn't seem to think it was really that big a deal, though. Cunningham may have played a successful game of "Gotcha," but in this case it didn't seem worth the effort.
Over on NBC5, the laughs kept coming. Someone loudly cleared their throat off-camera while the station put up a graphic informing viewers that "NBC5 weather is sponsored by Rooms to Go."
Reporter
Brian Curtis
later wore an Old Navy shirt (product placement rules!) and a ballcap during his "Big Fat Savings" segment on the virtues of on-line shopping for electronic products.
For some reason Curtis decided to deploy a hidden camera for a shopping trip to an unnamed discount store, where he wrote down prices. He then surfed for better bargains on a laptop computer he brought to a coffee shop. Maybe this is supposed to make him a man of the people? Hell, it's hard to figure out what they're trying to accomplish over there lately.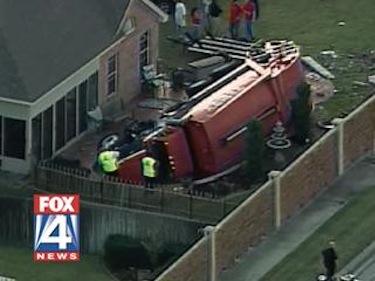 All four stations happily pounced on the picture story of the month -- a full-sized garbage truck that crashed through a fence and wound up in the backyard pool of a Richland Hills couple.
The situation was ripe for word plays and light approaches, but Belo8 did seem to go a bit overboard, so to speak.
"A lot of trash talking out there, huh, Jim?" said anchor
John McCaa
, throwing it to capable reporter
Jim Douglas
.
"It did make for one weird neighborhood pool party," Douglas riffed before noting how the truck had "cannonballed" into the pool.
A sizable neighborhood contingent watched as the truck was lifted from the water. Or as Douglas put it, "It's believed to be the largest crowd to ever witness a garbage truck pulled out of a swimming pool."
Douglas is usually the soul of sobriety in his on-air dispatches, but went a little ape this time. He concluded by noting that workmen undeniably "took out the trash, 55,000 pounds of it."
THIS AND THAT***
CBS11 seemed to revisit the Regent Ducas approach to 10 p.m. news content (he was fired as news director in early September) with wacky footage of an upset, pedestrian-pushing dentist in White Plans, NY; a "luminous blue vision" caught by gasoline station security cameras; and a runaway kangaroo. Anchor
Doug Dunbar
narrated the segment before urging viewers to visit the CBS11 web site for more "Great Video."
***
Segueing from last Friday's "Tree Yoga" story, Belo8 medical reporter
Janet St. James
looked at how some humanoids are "Eating Bugs" to avert illness. Actually, the bacteria is condensed within capsules, so it's not that hard to swallow. And the story was surprisingly informative, too.
***
Underrated Fox4 reporter
Saul Garza
got another wrong righted in his "What's Buggin' You?" segment. This time he helped expunge a ticket received ay a couple whose poodle was mauled to death by a pit bull while in the family garage. They later were charged with a "leash violation."
***
CBS11's
Jack Fink
had the only interview with a personal trainer who then pleaded guilty on Tuesday to manufacturing and distributing anabolic steroids. The man, David Jacobs, claimed to have several Dallas Cowboys players as clients, but would not divulge any names. A Cowboys spokesman said that Jacobs "never worked" for the Cowboys. No players have been charged or arrested.
***
Finally, Fox4's "Greatest Cowboy" feature continued, with receiver Michael Irvin getting the No. 6 spot. Nos. 10 through 7 are Don Meredith, Mel Renfro, Rayfield Wright and Randy White. Unclebarky.com's final 5 would be Emmitt Smith (No. 1), followed by Roger Staubach, Troy Aikman, Bob Lilly and Drew Pearson.