Latest RHOD drops out of Monday's cable top 100 in motherlode 18-to-49-year-old demographic while also drawing its biggest overall crowd since Week 2
06/02/16 04:38 PM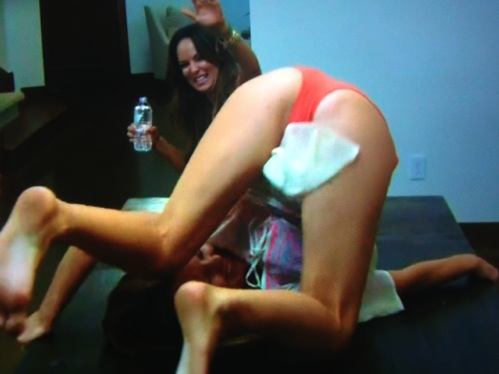 Butt out: Bravo's tease for next week's Episode 9 of Real Housewives of Dallas included this image of Brandi "Jesus Juice" Redmond after the ex-Dallas Cowboys Cheerleader got "super drunk" while ring-leading a contrived, impromptu excursion to Austin. Photo: Ed Bark
By ED BARK
@unclebarkycom on Twitter
The Memorial Day ratings for cable TV attractions were slow in coming because of the holiday weekend. And when they finally did arrive, your friendly content provider looked in vain for the usual lower region ranking of
Real Housewives of Dallas
among the top 100 programs tabulated by
tvbythenumbers.com
.
Bravo's 8 p.m. Monday lead-in attraction,
Southern Charm
, occupied its usual middle-of-the-pack spot with 1,144,000 viewers nationally and a .4 rating among advertiser-prized 18-to-49-year-olds. But where was Episode 8 of
RHOD
?
A call to a source at tvbythenumbers solved the mystery. For the first time since its April 11th premiere,
RHOD
ranked entirely out of the top 100 in the key 18-to-49-year-old demographic, which is how the website ranks its daily menu of cable offerings. It had a rounded off .3 rating that this time around computed to 422,000 viewers in the 18-to-49 age range. The 100th-ranked attraction (not sure what that was) had 425,000 viewers. So it was close, but no "Jesus Juice."
On the other hand,
RHOD
drew 899,000 total viewers to rank an overall 80th among cable attractions. And while that still wasn't much of a crowd, it was
RHOD
's biggest haul since Episode 2 drew 920,000 viewers. The low mark is still 789,000 viewers for Episode 5. Episode 7 had 883,000, with only the premiere hour straying into one million viewers territory with 1,076,000.
Episode 8 pretty much centered on giggly Stephanie Hollman's husband, Travis, demanding another big blowout for his birthday. So she arranged a "Great Gatsby"-themed party at a local club before climactically popping out of a cake for hubby back at their palatial home. Before any of this happened, Stephanie fretted that all of the stress she was under could result in "pooper pants." It's already been established that this woman can expertly pass gas upon request. So that would have been quite a blowout. But no.
RHOD
's future on Bravo remains very iffy. As previously noted, it's the only one of the nine
Real Housewives
franchises to average less than one million total viewers per episode. Cripes, all
NINE!
Memorial Day repeats in USA network's
Chrisly Knows Best
marathon drew more total viewers and more 18-to-49-year-olds than the latest new
RHOD
.
Next week's episode will follow the five principals and designated friend Marie Reyes to Austin via a road trip "spontaneously" arranged at the Gatsby party by a once again over-served Brandi Redmond. As you can see from the above Bravo tease, the former Dallas Cowboys Cheerleader gets blasted again. Which doesn't set/sit well with volcanic LeeAnne Locken after -- damn! -- the two of them had just made up.
Only 10 episodes of
RHOD
, plus a climactic "reunion" hour, have been ordered for Season One. Anything's possible, but at the moment it looks as though that June 20th get-together could be the last chance for Brandi to get bombed -- on TV at least.
Email comments or questions to:
unclebarky@verizon.net