On site at the Final Four: Bucky just a shot short of Kentucky
04/07/14 01:19 PM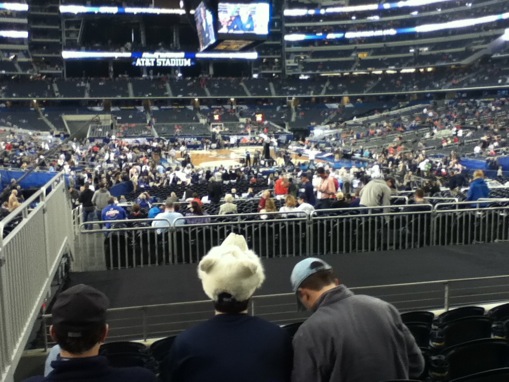 The view from ad hoc unclebarky.com media center well before tip-off of 1st Final Four game between UConn and Florida. Photo: Ed Bark
By ED BARK
@unclebarky;com on Twitter
It started out promisingly Saturday afternoon, with the discovery of a $5 (!!!) parking area within roughly a mile's walk to the Final Four at Jerry's Palace.
The attendant even offered free refreshments, something Jerry Jones would never condone had he known.
By the end of the night, though, the Wisconsin Badgers had gone down valiantly to the Kentucky Wildcats on a game-winning three-pointer from freshman guard Aaron Harrison, who did the same thing to Michigan a week earlier. So The End wasn't happily ever after. But losing 74-73 is no disgrace. It's a character-builder for a team that hadn't advanced this far since 2000. So your friendly 1974 UW grad isn't bitter or morose. It was just great to be there amid big pockets of red-clad kids, many of whom instigated "Go Badgers" hand-slaps upon encountering an ancient Mariner in Bucky attire. I'm old enough to be their grandpop and young enough to remember being a lot just like them. Except crazier.
A football arena obviously isn't ideal for watching a basketball game. But the players at least looked like toy soldiers -- rather than ants -- from our behind-the-basket vantage point at unclebarky.com media central. The eyes alternated between watching the game in miniature or succumbing to the overhead video screen in front of us (not one of Jerry's twin mega-gargantuan ones, but more than big enough).
The weather outside was drizzly. But the crowded pre-game "tailgate" area hummed with music, various sports talk shows and a chance to buy beer, wine or a margarita before entering the alcohol-forbidden stadium (save for the worlds apart luxury suites). Best buy: a plastic glass of wine for $8.
Some "bargains" could be found within as well. Jerry takes a lot of heat for his concession prices. But $9 "Ultimate Nachos" are enough to bloat two people. And $5.50 for a truly plump Nathan's Hot Dog isn't too terrible either.
The "atmosphere" can be priceless, though. Roars in unison from the student bodies. Battles of the bands. And all that mugging when pockets of fans are shown on the giant video screens.
Even better are the reactions to celebrities in the house. Jerry Jones as always drew the loudest boos while his luxury suite seat-mate, CBS Corporation chairman/CEO Leslie Moonves, responded by clapping.
Johnny Manziel and Dwight Howard also were jeered by some; Troy Aikman and Wisconsin alums Russell Wilson and JJ Watt (both now pro football gods) got the loudest cheers.
But in the final seconds, you could almost hear the stunned sounds of silence from the Badger red while the Kentucky Wildcat blues roared loud enough to send any jungle beast into retreat. We filed out quickly after that, beginning the long jaunt to the $5 parking spot while encountering one speechless Wisconsin fan after another. Nothing more needed to be said.
Except for this. If only Badger coach Bo Ryan had listened to his two red-shirt seniors below -- Ed and Madeline Bark. We implored him to put us in at crunch time, but we instead rode the pines after breaking training with those pre-game beers. Sometimes you just can't win.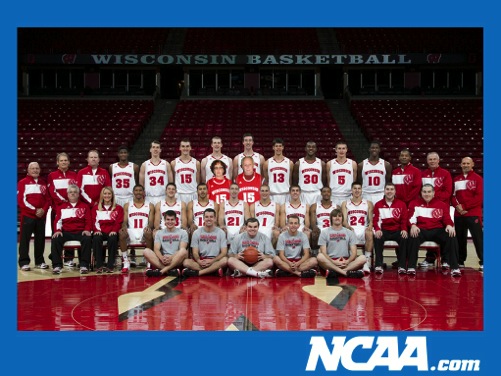 Email comments or questions to:
unclebarky@verizon.net