End of days for KTXD's The Texas Daily (updated)
03/19/14 07:35 AM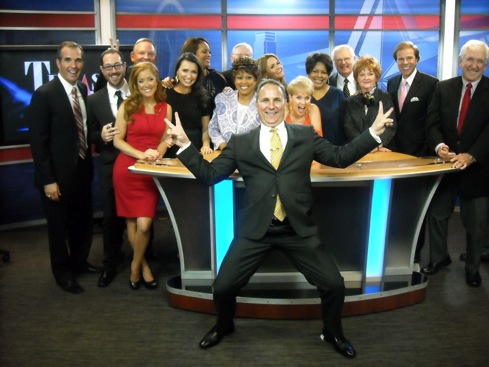 Happier days: KTXD station manager Brian Joyce was front and center at a September 2012 launch party for The Texas Daily. Photos: Ed Bark
By ED BARK
@unclebarkycom on Twitter
The Texas Daily
, a flagship KTXD-TV (Ch. 47) news program aimed at baby-boomers, is being canceled.
The last edition is scheduled to air on Friday, March 21st, a little less than 18 months after launching on Oct. 1, 2012 with a constellation of former D-FW news stars as rotating contributors and former WFAA8 anchor Jeff Brady as the daily host.
Phil Hurley, executive vice president and COO of London Broadcasting Company (which owns Dallas-based KTXD and stations in five other Texas markets), said that
Texas Daily
will be replaced at 9 p.m. weeknights with a new syndicated acquisition,
America's Funniest Videos
. "We know it will draw an audience," he said in an email reply.
Texas Daily
never found a substantial following after debuting as a one-hour 8 a.m. weekday program and lately airing at 9 p.m. Last week,
Texas Daily
's biggest audience was for Thursday's edition, which had 5,681 viewers in a D-FW market of 7.1 million viewers. The Monday and Tuesday March 10-11
Texas Dailys
recorded "hashmarks" (no measurable audience), according to Nielsen Media Research data.
"2014 has started out great in all six of our markets," Hurley said. "I just decided it was time to put my issues idea (
Texas Daily
) on hold and just concentrate on the show that was making a profit,
The Broadcast
. It is just more challenging and rewarding to create distinct and different local programs, but they have to work in today's business/profit broadcasting world. We just could not draw the ratings needed to justify what we were spending on
The Texas Daily
."
The Broadcast
, which last year severed an initial partnership with
D Magazine
, airs from 9 to 11 a.m. on KTXD and is repeated from 4 to 6 p.m. weekdays. Aimed at a younger audience, its Nielsen ratings generally have been no better than those for
The Texas Daily
. But KTXD, like WFAA8's competing
Good Morning Texas
, sells sponsored slots within the show. They're basically mini-infomercials in which various merchants pay for segments with the shows' hosts.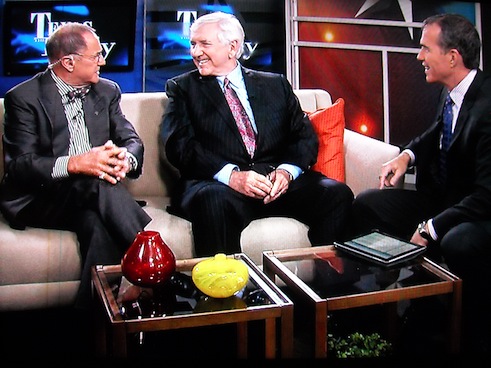 Former longtime WFAA8 news stars Troy Dungan, Tracy Rowlett and host Jeff Brady on the Oct. 1, 2012 premiere of The Texas Daily
In a memo to KTXD staffers Tuesday, general manager Brian Joyce said, "Simply put,
The Texas Daily
has been difficult to sell advertising into and in order to move forward with what is currently working we need to expand our resources in that direction and
The Daily
is not part of that plan. We tried to make it part of our plan by spending over $200,000 in promotion (during the) 4th quarter of 2013 and still could not get the traction we needed."
Texas Daily
's charter roster of contributors was headed by former WFAA8 news stalwarts Tracy Rowlett and Troy Dungan, both of whom usually appeared with Brady on the program's Monday and Tuesday editions. But Rowlett and Dungan both left in mid-September of last year over contract disputes. KTXD declined to pay them more money when
The Texas Daily
was syndicated to London Broadcasting's five other Texas markets.
Regular contributors to
Texas Daily
, most of them formerly with WFAA8, also included Iola Johnson, John Criswell, Gary Cogill, Phyllis Watson, Jolene DeVito, Midge Hill, Debbie Denmon, John Sparks, Robert Riggs, Scott Murray and Suzie Humphreys. Ex-Fox4 reporter Rebecca Aguilar joined the program several months ago. Former WFAA8 reporter Don Wall also was a latter day addition, as an out-of-studio correspondent.
Hurley said that KTXD still plans to include Brady, the only full-time
Texas Daily
personality, "in some future projects we have in the planning stages." Otherwise, he said, "the biggest reward was having the opportunity to work with all of the former anchors and pundits that contributed to the show. It was a real pleasure for all of us."
KTXD and ME-TV, a purveyor of vintage network reruns, ended their partnership in late October of last year. KTXD now is buying its own syndicated repeats, among them
Charlie's Angels, Starsky & Hutch, Fantasy Island, Mad About You, Designing Women
and
Community
. Besides
The Broadcast
, its local programming includes daily morning simulcasts of the Mark Davis radio program and weekend/late night editions of
Lone Star Roads
.
Email comments or questions to:
unclebarky@verizon.net