Pavelka's Bachelor bustup barely in play on another gooey GMT
06/25/10 03:50 PM
Pavelka as co-host on Friday's GMT: "I don't really want to get too much into it." Really? Then what's the point? Photo: Ed Bark
By ED BARK
WFAA8's
Good Morning Texas
is known for having a creamy center. Still, what program in its right mind would give Dallas-bred
Bachelor
star Jake Pavelka a free pass Friday in times when his big bust-up with made-for-TV fiancee Vienna Girardi is currently the hottest gossip in the land?
Leave it to
GMT
, where Pavelka guest-hosted in the company of the homegrown program's incumbent Amy Vanderoef, who twice solicited and received high fives from him. They slapped hands the first time after she told him, "I think it's awesome that you're here."
Yeah, it was awesome, all right. Bleccch.
Pavelka otherwise hasn't been particularly shy about blabbing his side of the breakup to
People, Extra
and even
TMZ
. But he's apparently now saving the rest of it for an announced July 5th appearance with Girardi on ABC's
The Bachelorette
.
"Hopefully it's going to be some closure for me," Pavelka told
Extra
's Mario Lopez. "America stood there and stood with us at the birth of our relationship. And I think I owe it to them and to myself and Vienna to let everybody be there at the end of it. So everybody understands it was real."
Is this guy for real?
Vanderoef, determinedly vacuous, never brought up the
Bachelorette
appearance. Nor did she mention Girardi's sobbing accusations against Pavelka the previous day on two syndicated shows that WFAA8 proudly carries --
Entertainment Tonight
and
The Insider
. Nor did she ask about his pointed accusations in the
People
cover story, headlined, "Why I Left Vienna -- "I Don't Trust Her"
No, that would have been asking too much.
"It's no secret that you've been through a lot lately," Vanderoef commiserated after welcoming Pavelka to a two-show guest host appearance that also will include Monday's
GMT
.
She soon added, "You've been going through a little bit of a tough time," before Pavelka interjected and said, "I don't really want to get too much into it, but I'm getting all of the tweets and all of the support from the fans and it's absolutely wonderful. You guys are going to get me through this, and thank you."
And by the way, Pavelka says he has no regrets about anything. People like him never do, and Vanderoef wasn't about to press matters.
She quickly began cooing about his post-
Bachelor
gig on
Dancing With the Stars
("the yummy part," as she put it); his recently filmed guest shot on Lifetime's
Drop Dead Diva
; and his vintage appearance as a younger Chuck Norris on an old episode of
Walker, Texas Ranger
. It was akin to getting the head of BP and asking him what he likes for breakfast. Few have accused
GMT
of having an "edge." But geez, when something like this falls in your lap, you've gotta at least get in there and play a little offense.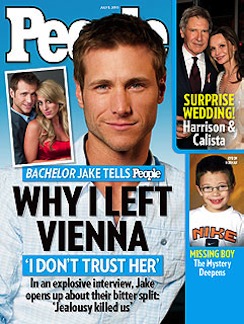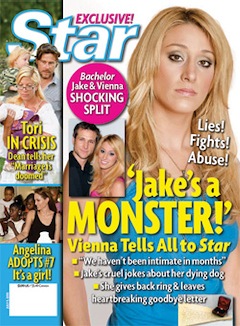 Pavelka later tried to be funny during a segment with a veteran comic who's appearing at the Addison Improv this weekend.
"Comedian Greg Girardo," he said. "Not to be confused with Girardi."
Yeah, except that his last name is GirALdo.
GMT
at least got it right in his printed on-screen ID.
Giraldo played along, but did throw a light jab by saying, "I understand there is some kind of gag order on Mr. Handsome over here." He then referred to Pavelka as "Perfect smile here," prompting perhaps the only bald truth of the day.
"I practice in the mirror, actually," Pavelka said. And you can pretty much bet he does.
Pavelka also interviewed the author of
Porch Parties
and introduced a pre-paid spot on dining room decorating. There's probably not much that
ET, The Insider
or anyone can do with that.
GMT
will get one more crack at Pavelka on Monday's show. And you'd like to think that they'd be eager to have him spill just a little juice about, you know, the purported girl of his dreams who weepily said on
Entertainment Tonight
that Pavelka told her he might have won
Dancing with the Stars
had he "dumped her" in mid-show.
She also tells
Star
magazine that they hadn't "been intimate" in several months leading to the breakup and that Pavelka "kisses me only if we're on a red carpet or if cameras are there."
Well, what about that? Maybe WFAA8 should double-team Pavelka with its two star investigative reporters -- Brett Shipp and Byron Harris. Or perhaps Dale Hansen could return early from vacation and have a go at him.
This is hardly their beat, but at least they might make "Mr. Handsome" cough up some of the details he's been pretty happy to dish out elsewhere. That won't happen, though, if you don't even ask the questions. And on Friday's
GMT
, there definitely seemed to be no danger of that.