NBC reboots, NBC5 hopes to get a leg up
05/01/10 02:03 AM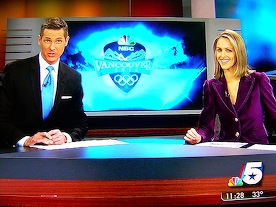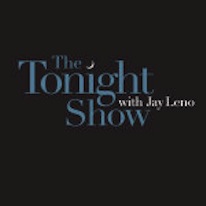 NBC5 anchors Brian Curtis and Meredith Land are glad that Leno's back where he belongs -- as their 10 p.m. weeknight followup act.
By ED BARK
Now comes the inverse of many Winter Olympics competitions -- NBC's steep uphill climb back to what it hopes will be renewed ratings respectability. It all starts Monday.
Fort Worth-based NBC5's 10 p.m. newscasts also potentially have much to gain. The station's new anchor duo of Brian Curtis and Meredith Land made their first appearance after the Games' opening ceremonies. And despite usually starting an hour or more later than their three rivals, they still drew more viewers than the 10 p.m. winner on most nights. It helps to have the Olympics as a feeding tube.
Curtis and Land will begin their regularly scheduled 10 p.m. shift without being bedeviled by
The Jay Leno Show
and its reliably low lead-in audiences. Instead they'll be preceded by a patchwork quilt of shows that are either new or notably long in the tooth.
The Monday-Friday 9 p.m. lineup, subject to change as winter yields to spring, will be
Law & Order
; the promising new drama series
Parenthood
;
Law & Order: SVU
; Jerry Seinfeld's comedy-panel show,
The Marriage Ref
and
Dateline
.
Leno, whose Olympics promotions were built around The Beatles' "Get Back," concurrently returns to
The Tonight Show
Monday armed with guests Lindsey Vonn, Jamie Foxx and Brad Paisley. His long-term goal is to regain the dominance he had over David Letterman's
Late Show
, which thumped Conan O'Brien's
Tonight
for much of their seven-month faceoff.
Letterman will counter Monday night with the reliably entertaining Bill Murray and Ludacris. On Tuesday, a pair of possible 2012 Republican presidential candidates square off, with Leno welcoming Sarah Palin and Letterman hosting Mitt Romney.
Letterman also has
The Jay Leno Show
's first guest, Jerry Seinfeld, on Wednesday, and O'Brien's last
Tonight
guest, Tom Hanks, on Thursday. Leno has Olympian Apolo Ono on Wednesday and Brett Favre on Thursday. They're obviously not messin' around.
NBC5's 10 p.m. newscasts ran third in the November sweeps with Leno as their nightly place-setter. Late night news ratings for the February sweeps, which end Wednesday night, are largely discounted because of the Olympics factor. That makes the May sweeps of more than usual interest -- particularly for NBC.
Can Leno heal the
Tonight Show
ratings after opening all those gaping ratings wounds at 9 p.m.? Will NBC be able to give its owned and affiliated stations a much-needed boost with its hastily assembled quintet of Leno replacements?
Leno's return to
Tonight
almost assuredly will boost the show's overall ratings. And the curiosity over Monday night's first do-over should provide him with a larger audience than Letterman on that night.
Despite NBC's manifest screwups, it's still possible that Leno in time will resume his reign as late night king. In fact it might not take that much time at all. If so, that would be a tough pill for Letterman to choke down. So he'll be going all out -- save for another sex scandal -- to stay on top of a guy he unmercifully ridiculed until making peace of sorts with their surprise Super Bowl XLIV commercial.
The Peacock's prime-time problems are far more deep-seated across the board, even if its new 9 p.m. lineup can't help but do better than Leno did. In the immediate future, NBC5 and its brethren across the land will take whatever extra table scraps they can get. For the first time since September, things actually are looking up. Then again, how could they not?