Bush Center dedication a late morning must on D-FW TV stations
04/25/13 01:36 PM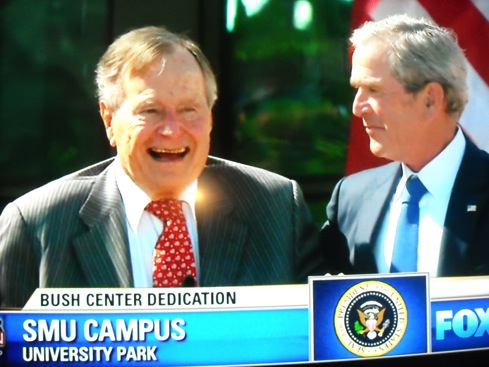 Rising to the occasion: George H.W. Bush briefly emerges from wheelchair in response to a sustained ovation at the dedication of his son's Presidential Center Thursday morning. Photo: Ed Bark
By ED BARK
@unclebarkycom
D-FW's four major TV news providers all interrupted entertainment programming Thursday morning for live coverage of the George W. Bush Presidential Center dedication.
They were joined at the network level by CNN, MSNBC, C-SPAN and a surprisingly late Fox News Channel, which skipped the preliminaries, including Laura Bush's remarks to an invitation-only crowd on the SMU campus.
The ceremony started just before 10 a.m. and ended at 11:17 a.m. on a sunny, picture-perfect morning. Fox4, NBC5, WFAA8 and CBS11 all relied on a pool camera feed, but also had their own reporters in place for post-mortems. WFAA8 began its coverage an hour early at 9 a.m., preempting
Good Morning Texas
. The station's Ron Corning and Gloria Campos co-anchored from the scene.
An onstage open mike caught the ceremony's prize unscripted moment. It came after George H.W. Bush, in deteriorating health and in a wheelchair, quipped "Too long?" to his son after his very brief address to the audience. The elder Bush then provided the event's most enduring picture by standing with help from George W., who later said that his father's mere attendance was "awesome."
Both George H.W. and Jimmy Carter are 88 years old, making them long shots to attend any future presidential center dedications. This one also included former president Bill Clinton and President Barack Obama, with all five spouses likewise in attendance. That's an unusually large contingent.
As the honoree noted, it also marked the first time that both parents of a former president had lived long enough to see their son's library officially dedicated.
Email comments or questions to:
unclebarky@verizon.net