CBS11 anchor Kaley O'Kelley taking leave of absence for surgical procedure
01/16/18 02:41 PM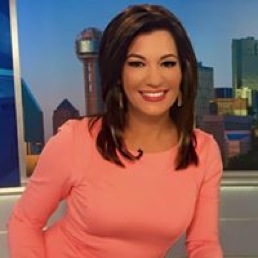 By ED BARK
@unclebarkycom on Twitter
Kaley O'Kelley, CBS11's weekday 5, 6 and 10 p.m. co-anchor
since January 2015
, is taking an extended leave of absence to have preventative surgery.
O'Kelley, in a
live Facebook chat Friday
with co-anchor Doug Dunbar, said she'll undergo a hysterectomy on Wednesday, Jan. 17th and likely will be off the air for four to six weeks.
She managed to get the word out in the face of constant interjections from Dunbar, who obviously was well-meaning but became aggravatingly intrusive during an almost 17-minute video posted early Friday evening.
O'Kelley noted that she had an ovarian cyst and both of her fallopian tubes removed a "couple of years ago" after a "cancer scare." She had been experiencing back pain.
Late last year, she was hit with "excruciating pain just before the holidays." O'Kelley's Scottsdale, Arizona-based doctor, who delivered both of her children, eventually recommended a hysterectomy after expressing "some serious concerns about what is happening," she said.
Dunbar then noted that he's not a doctor, but "the reality is they cut you pretty deep and the recovery takes a long time."
He also noted, "It's surgery. It's gonna suck for a while. Let's just be real."
Later, Dunbar detailed the pain he experienced after his surgery for a hernia. "But yours is much bigger and broader obviously," he conceded. In reality, though, Dunbar did much of the talking -- at the start, at the finish and in between. He even launched a competition about who would buy dinner before O'Kelley's last 10 p.m. newscast for a while on Friday, Jan. 12th.
O'Kelley said she can't wait for it to be over. "Listen to your body. If you think something's going on, go get checked," she urged.
CBS11's
Gilma Avalos
will fill in during O'Kelley's absence, she said.
O'Kelley likely will miss the February "sweeps" ratings period, but it's considered a throwaway because of NBC's telecasts of the Winter Olympics during much of that month. So the timing at least is pretty optimum.
All the best to O'Kelley for a successful procedure and a full recovery.
Email comments or questions to:
unclebarky@verizon.net