No cause for alarm: But a false one turned WFAA8's 6 p.m. newscast into improv theater
03/06/09 10:09 AM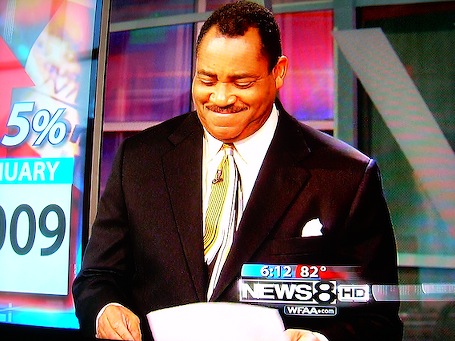 John McCaa grins and bears a blaring fire alarm. Photos: Ed Bark
By ED BARK
It's never conducive to good TelePrompTer reading when a fire alarm goes off in the middle of your newscast.
That's what happened to WFAA8 anchor John McCaa during Thursday's 6 p.m. edition from Victory Park.
After briefly trying to talk over it, McCaa told viewers, "We're gonna take a short break. We'll be right back."
But McCaa and co-anchor Gloria Campos weren't to be seen again. WFAA8 instead went to anchor/reporter Brad Watson at a makeshift anchor desk in the station's Young Street mothership. Watson anchored the rest of the newscast while weathercaster Pete Delkus and sports anchor Dale Hansen did their segments from an outdoor location adjacent to the alarm-infested Victory Park studio.
Hansen also was left to sign off the newscast before viewers got a brief look at him trudging back to where he originally was supposed to be.
It turned out to be a false alarm, Dave Muscari, WFAA8's vice president of product development, said Friday. He said this had happened just once before, several years ago while
Good Morning Texas
was in progress.
WFAA8's 10 p.m. Thursday newscast originated from the Young Street studios instead of the usual Victory Park locale. But Muscari said it wasn't due to fear of another fire alarm malfunction.
"There wasn't an event there (at nearby American Airlines Center), so there was no burning reason to be there," he said.
We'll leave you with the last, lingering image of lone gun Hansen striding off into the sunset after closing down Thursday's 6 p.m. newscast.