This just in: a night in the lives of D-FW's late night newscasts (Wednesday, May 8)
05/09/13 04:49 PM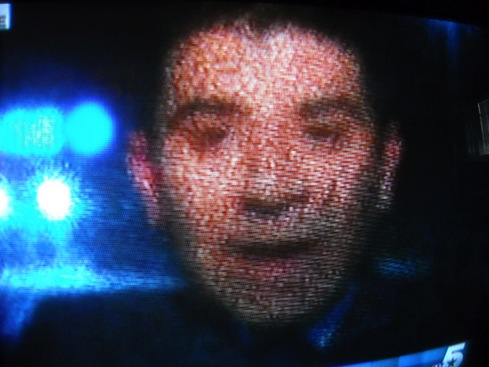 NBC5's Omar Villafranca mimics "Mesh Mask Bandit." Photo: Ed Bark
By ED BARK
@unclebarkycom
NBC5's
Omar Villafranca
has become a sturdy member of the station's late night pavement-pounding crew. Unfortunately, management likes its reporters to use illustrative props whenever possible. Which can lead to some rather ridiculous visuals.
On Wednesday's 10 p.m. edition, Villafranca brought viewers news of the still at large "Mesh Mask Bandit," who supposedly has robbed 18 area banks since New Year's Eve.
"It's become his trademark. But it's also become a problem for investigators," Villafranca said. Just in case you didn't believe him, he put some mesh between himself and the camera. The above picture resulted, making him look something like Jeff Goldblum in the early stages of becoming
The Fly
.
Villafranca's NBC5 colleague, Ben "Show and Tell" Russell, was no match for him on this night. Russell regularly deploys a white board and grease pencil to further illustrate his stories. He's also been known to pop out of a woodsy setting to illustrate the possible whereabouts of a lawbreaker on the lam. But on Wednesday night, the best he could do was brandish a copper tube to bring home his story about rampaging copper thieves. Russell also showed a locked gate during his live shot. But gamesmanship, set and match go to Villafranca, who now also has a nice entry for NBC5's goofball Christmas reel. Assuming that stations still do that.
It wasn't much of a night for any of D-FW's four major TV news providers. NBC5's newscast was loaded with briefs and maps reminiscent of the old NBC5. It even pretty much gave the rip 'n' read brush-off to the fave rave story of the day -- a video gone viral of Duncanville High School sophomore Jeff Bliss railing against his World History teacher after being kicked out of class.
Fox4 led its 9 p.m. newscast with an extensive portion of the 90-second cell phone video, which was secretly shot by a classmate while Bliss said, "You've got to take this job serious. This is the future of this nation." And furthermore, "If you would like, I will teach you a little more about how to teach a friggin' class."
Reporter
Calvert Collins
did a separate one-on-one interview with Bliss, as did WFAA8's
Jason Whitely
. He has no apologies after dropping out of school for a year and purportedly learning the value of an education before re-enrolling. School administration responded with a statement that said students are encouraged to be engaged in the classroom, but in a perhaps "more appropriate" manner.
Not surprisingly, Fox4's
Clarice Tinsley
made the Bliss manifesto Topic A of her first "Your Turn" segment. The viewer comments she read all sided with the student before Tinsley added, "This has blown up our Facebook page."
Fox4 also gave heavy play to an in-studio interview with Emmitt and Pat Smith, whose annual charity events for under-served kids are this weekend. The Friday night gala at the Omni Hotel already is a sellout. But the station also wanted to promote its companion half-hour
Red Carpet Live
show, which will air at 6:30 p.m. Friday. Both Smiths repeatedly thanked Fox4 for its promotional efforts while sports anchor
Mike Doocy
and news anchor
Steve Eagar
also made nice.
CBS11 offered a brief taped interview with Emmitt Smith during
Babe Laufenberg
's sports segment. It also joined its rivals in covering that day's charity home run derby among Cowboys players. No station is more keen on keeping up with the Cowboys -- both past and present. Laufenberg, an ex-Cowboy, is still the team's paid radio analyst, in tandem with Brad Sham.
Reporter
Jack Fink
of CBS11 had a followup to Tuesday's worthy story on dogs with distemper being released for adoption to unsuspecting owners. The Fort Worth City Council now is asking for a "full briefing" on the matter from the city-owned animal shelter, he said.
WFAA8's best enterprise story -- and there were precious few of them anywhere Wednesday night -- was
Jason Wheeler's
journey to a "parched corner of Texas four hours west of Fort Worth." In a piece titled "Toilet to Tap," Wheeler told how residents of Odessa, Big Spring, Snyder, Midland and Stanton are bracing themselves for recycled drinking and bathing water that used to be sewage. The water will be treated and re-treated before being pumped back into these communities, authorities assure.
Some residents still vow not to drink it. Wheeler heard from them, too. But such measures likely will be fairly commonplace in the future, viewers were told.
The clear-looking recycled urine looked more appetizing than the Triple Atomic Burgers spotlighted in a WFAA8 sports story by
Ted Madden
. A handful of high school football players were brought in to try to eat the hot sauce-laced heart attackers as part of a charity that in small part benefited the Carrollton Fire Department.
Most of the imbibers ended up in tears, and the creator of the thing admitted that even he couldn't choke one down. As noted previously, there just wasn't much to work with Wednesday night.
Email comments or questions to:
unclebarky@verizon.net