This just in: a night in the lives of D-FW's late night newscasts (Thurs., Feb. 7)
02/08/08 02:07 PM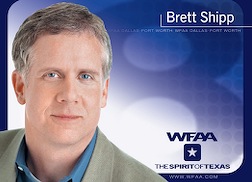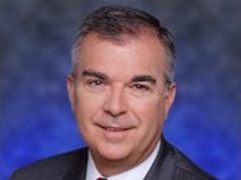 And the hard-charging investigations just keep on comin' from veterans Brett Shipp of WFAA8 and Robert Riggs of CBS11.
By ED BARK
Which TV gumshoe is hated more in this town --
Brett Shipp
by the DISD or
Robert Riggs
by the UT-Southwestern Medical Center?
It's a tossup, with both reporters continuing to pour it on during Thursday's 10 p.m. newscasts.
Shipp topped WFAA8's menu with another dig into alleged grade-fixing at a DISD high school. His earlier efforts have resulted in the forfeiture of a state basketball title by South Oak Cliff and a teacher revolt at Roosevelt. Now Shipp has Skyline in his sights, with an aggrieved teacher coming forward to say he's been suspended with pay for the past eight months for refusing to go along with higher-ups.
Media tech teacher John Stine told Shipp that failing grades for four of his students were "rounded up" to passing 75s at the order of Skyline administrators. And athletes again were involved, Shipp said.
Also as usual, no one in a position of authority would talk on-camera. But the school released a statement saying that Stine had agreed with the grade-changing. He strongly disputes that, and his long-term suspension seems to speak volumes on his behalf.
"In all three cases," Shipp concluded, "no principal has been disciplined."
He's going to win some national reporting awards for these investigations, not that his trophy case isn't already full enough. This is valuable work by Shipp, who continues to uncover scandalous misconduct on the part of people who are supposed to be setting high standards for the students under their trust.
Over on CBS11, Riggs threw some more grenades at UT-Southwestern, which he's been depicting as a haven for misuse of funds and special treatment of the privileged.
This time he charged that the hospital had grossly misused a memorial fund of $390,000 bequeathed by former hospital auditor Jesse Brittain. According to a written directive by Brittain, the money was to be used "for the sole purpose of enhancing the business operation of UT-Southwestern, giving priority to the professional development of personnel in the business operation, including training courses, books, seminars" and so on.
Instead a CBS11 undercover camera showed black-and-white footage of a hospital Christmas party thrown for a "select group of the university's business administrators," in Riggs' words. More than $5 grand of Brittain's money went to pay for an open bar, herb-crusted sirloin, risotto crab cakes and -- gasp -- artichoke hearts filled with goat cheese, said Riggs.
In another instance, more than $2,700 of the memorial fund was spent on an outing to a Texas Rangers game -- talk about your colossal waste of money -- that included a buffet in the team's Diamond Club restaurant.
Riggs found a willing naysayer in Brittain's nephew, Ron, whom he interviewed near Uncle Jesse's grave marker. Asked for his response, Ron said he wanted the hospital to, "Stop. Look at what you're doing. Change your habits."
The investigator also confronted memorial fund controller John Roan outside a local restaurant.
"Why would you spend the man's money that way?" he asked as Roan closed his car door and got out of Dodge.
The hospital's official written statement said that all of the aforementioned expenditures -- and several other questionable ones -- were well within the guidelines set by Brittain.
That's obviously a stretch on UT-Southwestern's part. But Riggs sometimes applies too much relish to his reporting, which can make him look like a hot dog. Hearing him talk about "chocolate-dipped" strawberries and "pricey cookies" almost makes it seem as though UT-Southwestern officials have sacrificed their first-borns in exchange.
Still, Riggs also seemed to have Texas Governor Rick Perry on his side. Or maybe it was just politics as usual when Perry encouraged complainants to take their concerns about Brittain's memorial fund to the state attorney-general's office. We'll see if anything comes of it.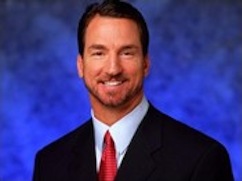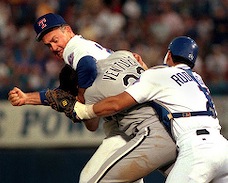 CBS11's Babe Laufenberg threw a brushback pitch at Nolan Ryan.
And In Other News . . .***
CBS11's usually collegial
Babe Laufenberg
unplugged himself in response to the Texas Rangers' hiring of Nolan Ryan as their new team president.
"I know that I'm in the minority. And I also know that it is blasphemous to say anything negative about Nolan Ryan," Laufenberg began. "But is he really the answer for what ails the Texas Rangers?"
He then quoted the 61-year-old Ryan telling reporters, "It's going to be something entirely new for me, but I'm looking forward to it."
"Does that really make you feel like the organization is heading in the right direction?" Laufenberg asked. "PR man, yes. But a president, and a part-time one at that? No. Hello, loss column."
News anchor
Karen Borta
later distanced herself, urging viewers to "send all email to Babe Laufenberg."
"Send 'em all," he retorted. Bring 'em on."
Laufenberg's spiked punch is welcome. WFAA8's
Dale Hansen
has been venturing strong opinions for years, but can always use some competition. For the record, I'm with the Babe on this one, even if Ryan could still break my nose just by glaring at it.
As a postscript to this, a contributor to Fox4's newscast-ending "Viewers' Voice" segment got all indignant about
Good Day
anchor
Tim Ryan
making fun of Ryan's at times agonizingly slow way of speaking. Team meetings are going to drag on a while, Ryan had joked.
"It is totally inappropriate for a news station to air their own feelings and to make fun about someone's mental or physical abilities," said James (no last name given) of North Richland Hills.
News anchor
Steve Eagar
then got in James' face, telling him that Ryan merely was making fun of the other Ryan's slo-mo Texas drawl.
For the record, I'm with Fox4's Ryan on this one even if the other Ryan could crack a few of my ribs just by glaring at them.
***
WFAA8 had a night marked by interesting enterprise stories and one very puzzling omission from its story lineup.
Veteran reporter
Brad Watson
's piece, which his station titled "The Art of Wasteful Spending?", questioned whether some public arts projects are a defensible use of taxpayer money. The city requires that "certain city projects" earmark 1.5 percent of their construction costs to homegrown art. In the past three years, more than $3 million has been spent in compliance, but some of the art designs aren't functioning properly and others are well-hidden from public view.
Watson looked at both sides of the issue without getting snarky about it. Interviewees included Dallas mayor Tom Leppert, who told him, "It's a world class city. You want to have arts."
In some cases, though, "it may not be appropriate," Leppert agreed. Whatever the case, city taxes went up again last year, Watson said.
WFAA's
Rebecca Lopez
reported on a band of women bandits who seduce victims at places like the pricey Ghost Bar and then possibly drug them. Instead of thanking the women in the morning, the men find some of their valuables missing. The story was sketchy on further details, but did perk interest.
Oddly, though, the station had nothing on one of the day's big talkers, a sharp twist in the case of two Dallas firefighters who were shot outside an Arizona bar after Sunday's Super Bowl. One of the men later died of his wounds. But it turns out that both of them were cited on Saturday for trying to sell a cache of counterfeit pro football jerseys to an undercover officer. They also were in the company of two men who were charged with possession of marijuana.
The story led the late night newscasts on Fox4 and NBC5, and was the second story on CBS11. But WFAA8 ignored it entirely, at least on its 10 p.m. newscast. That's just bad news judgment.
***
What's gotten into CBS11's
Ginger Allen
, still billed as one of the station's three "Investigators?" On Monday night she nonsensically dug into "lucid dreaming." Thursday brought a story on "gravity training." It's supposedly a new breakthrough in workouts, even if looked a lot like one of those old contraptions that used to be marketed by Chuck Norris and Christie Brinkley.
Viewers were treated, though, to a shapely blonde with a nipple erection under her workout top. Maybe that's what this was all about.
***
NBC5 lapsed back into load-of-crap syndrome after putting on some halfway respectable newscasts of late.
Anchor
Mike Snyder
told viewers that rats were "running rampant" in parts of Mockingbird Lane. And they're "leaving a pricey path of destruction behind," added rat patroller
Meredith Land
.
She did find a vehicle owner whose under-the-hood wiring had been chewed up by rats seeking warmth from the recent cold weather. But it didn't seem to be anything close to an out-and-out assault by the buggers.
NBC5 anchor
Jane McGarry
later teased a "hand-washing revelation just ahead." That turned out to be station sales department workers being used as guinea pigs by reporter
Lindsay Wilcox
. They were duped into putting some goop on their hands before washing them. But aha, this instead was a ploy to see how many germs remained. And boy, there were lots of 'em.
A doctor then said that self-respecting hand-washers should rub their paws together "long enough to sing 'Happy Birthday' twice." Ideally, though, they should scrub for three minutes a pop. Oh, get outta here.
Snyder also warned viewers of "new concerns about diet soda pop," which could prompt
"metabolic syndrome"
even though studies are inconclusive.
NBC5 anchors lately have taken to gabbing just a wee bit more at the end of newscasts, with sports anchor
Newy Scruggs
of course a non-participant whose fixed smile seems to be saying, "On the whole, I'd rather be having a cyst removed." Snyder tried to get cute on Thursday after an end-of-the-newscast kicker about efforts to provide healthier school lunch choices, including a "pickle popsicle."
"Football players drinking the pickle juice, the kids can eat the pickle sicle," he said.
"Makes you pucker up," giggled McGarry.
***
Obviously, the "happy talk" pros are all gathered at WFAA8, although sports anchor
Dale Hansen
sure would have some easy meat were he bouncing one-liners off of the easily lampooned Snyder.
Talkative weatherman
Pete Delkus
keeps punching, though, even if the poor guy sometimes feels punched out. After Thursday's preliminary bout with the maps, he offered this lament: "You know, earlier tonight, Dale made fun of me. And it did hurt my feelings. But I want you to know I know it makes you feel better to hurt my feelings, so I'm here for you."
Hansen had interjected "Yes, it does" somewhere in there. "And you sound so much better," he added, "unlike (at) 6, with a microphone."
Sorry, but I didn't catch that particular newscast. Gotta conserve the remaining brain cells with just six weeknights of February "sweeps" newscasts in the books -- and 14 more to go. Even primal screaming doesn't help much anymore.