CBS11 news: The new guy has his work cut out for him -- but so does the old guy
09/04/07 03:51 PM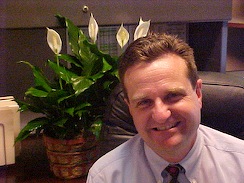 CBS11 prez and GM Steve Mauldin and news director Scott Diener.
By ED BARK
At last it dawned on the head man. CBS11's news operation couldn't withstand another minute of news director Regent Ducas, let alone the start of a new fall season followed by the hyper-competitive November "sweeps" ratings period.
So CBS11/TXA21 president and general manager Steve Mauldin abruptly did what he had to do Friday evening by cutting loose the guy he'd hired barely five months earlier. The bigger question is why Mauldin did what he did in the first place.
He's not commenting right now, preferring to let the dust settle while CBS11's newest news director, Scott Diener, is left to undo the damage done to morale, image and ratings. The latter didn't improve either under Ducas, whose twisted metal 'n' mayhem approach to news perhaps fittingly left a train wreck behind.
Mauldin earlier had hired the well-regarded Greg Easterly from Cleveland to run the CBS/TXA21 news ships. But Easterly belatedly backed out during the holiday season after first attending the staff Christmas party. Then came the back flip to Ducas, who had taken Kansas City's CBS station to the top after first schooling it in the art of "urgent" in-your-face, small j journalism.
"I'm sure there is an adjustment period," Ducas said during an April interview with unclebarky.com. "I'm sure some people are wondering to themselves whether they're going to make it under this new format, whether they even subscribe to it in the first place."
Instead the troops finally prevailed while their volcanic general was sent to the stockade. But one wonders what would have happened had Diener been given the job in the first place.
He arrived at CBS11 as assistant news director in June 2006, more than nine months before Ducas got the call. Diener previously had been news director at KTVK-TV in Phoenix, which is hardly Podunk. Instead it's the country's 12th largest TV market, ranking well ahead of No. 31 Kansas City. KTVK also is owned by Dallas-based Belo Corp., which runs WFAA-TV (Channel 8) as well.
Belo may be a conservative, hidebound company in some respects, but none of its stations serves crap for news. In fact Diener's resume includes prestigious George Foster Peabody and duPont-Columbia awards for excellence in journalism. Maybe that was deemed to be too good a track record in these low-aiming times for many TV news operations. But now CBS11 is touting those honors in a news release that has Mauldin praising Diener as "a solid newsman, a strong leader and a great member of our team."
Still, Mauldin first chose Ducas, so he clearly shares the blame for what became a debacle. He's been running CBS11 and TXA21 since February 2003, when he arrived from Miami's WFOR-TV.
Gambling on Ducas -- and losing big -- may have cost Mauldin all but a few of the chips he had piled up with CBS before taking the D-FW job. But as a businessman, he knows the bottom line like the back of his hand. He was smart enough to recognize that Ducas' brand of news was turning off both advertisers
and
viewers. CBS11's newscasts had a respectable reputation even during rough times in the ratings. But Ducas made them an increasingly bad buy. CBS11 wasn't an art museum, but under Ducas it was starting to look like a junkyard.
Now Diener is left to clean up the mess without cleaning house. The station still has a solid group of reporters, even if many of them became dazed and confused in the past several months. In its favor, CBS11 also is going to high-definition on Sept. 24th, and will have a new news set as well.
Those cosmetic changes will open the door to wider sampling. But will curious viewers find ample reason to keep watching? Unfortunately, CBS11's promotions department isn't likely to get the go-ahead for a campaign underscored by the slogan, "Hey, we're not that way anymore!"
So we'll just have to wait and see.