There's no early mourning at NBC5, where the picture now looks even brighter
02/24/09 10:58 AM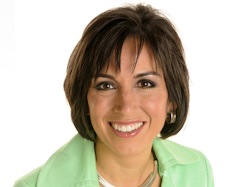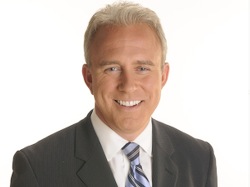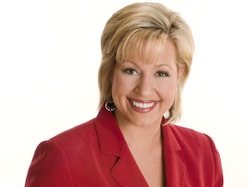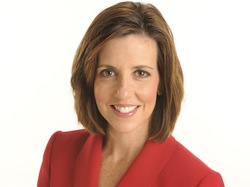 Sunny sides up. Looming large in the early morning ratings race -- and in these NBC5 photos -- are clockwise from top left: Deborah Ferguson, Brendan Higgins, Jennifer Lopez and Tammy Dombeck.
By ED BARK
So where is the early morning ratings race headed now that Fox4's
Megan Henderson is leaving
Good Day
while WFAA8 awaits its latest new
Daybreak
male anchor --
Chris Flanagan
from cornfed Des Moines, Iowa?
It's pretty simple, really. NBC5, lately with ratings momentum on its side, is the new station to beat -- at least in the short term. And that's despite little if any promotional help from its parent network, whose prime-time ratings are dismal on most nights.
NBC5's early morning news anchors, Deborah Ferguson and Brendan Higgins, easily will be D-FW's longest standing duo after Henderson signs off this Friday and heads to Tribune-owned KTLA-TV in Los Angeles. They're likeable and sometimes playful, but serious when the occasions demand. In short, Ferguson and Higgins click. And it shows.
Veteran traffic reporter Tammy Dombeck also is a key member of NBC5's veteran morning mix. And meteorologist Jennifer Lopez, who joined the station in late June, seems to have weathered the storm of viewers who swore they'd never watch again after the station unceremoniously dropped Rebecca Miller (now the featured forecaster at The 33).
NBC5 ran second to Fox4 in the 6 to 7 a.m. November "sweeps" ratings. But lately it's been the Peacock doing the crowing. In the past month's Nielsens, NBC5 has been No. 1 in both total viewers and 25-to-54-year-olds, the main advertiser target audience for news programming. Fox4 is running a relatively close second while WFAA8 and CBS11 fight for scraps on most mornings.
Here's another bulletin. From November 2007 to November 2008, audiences grew overall at 6 a.m. on the four competing stations. In their other major battlegrounds -- 5, 6 and 10 p.m. -- the aggregate audience dropped from year to year.
"I tell my morning team constantly that they are the second-most important thing that we do (other than the 10 p.m. newscast)," NBC5 Vice President of Content Development Susan Tully said in a story I wrote last April for
D CEO
magazine. "They could go to an early-evening newscast, but that would be a step backwards."
"Our early-morning news, behind the late news, is our second-biggest revenue generator," WFAA8 president and general manager Mike Devlin said in that same article. "The money is gravitating there."
Losing a morning star, as Henderson undeniably is, doesn't necessarily dig a grave for Fox4. But it certainly provides an opening for its three competitors. NBC5 has a prime opportunity to put some daylight between itself and the second place station. WFAA8 has a chance to inject some stability into its morning team while Fox4 at the same time is forced to make a change. And cellar-dwelling CBS11 has been ever-so-slowly creeping up on WFAA8, which is closer to fourth than first place as springtime nears.
Fox4 management has declined to answer phone calls about Henderson's departure. But as
noted previously
in these spaces, Henderson herself replaced established incumbent Julia Somers (now Julie Summers at Miami's WPLG-TV) in August 2003 without any undue harm to Fox4's ratings picture.
Don't discount incumbent Tim Ryan either. He's been at the
Good Day
controls since September 1995, and will remain in place to welcome -- or maybe distance himself -- from whoever ends up sitting beside him. Going in-house (to Natalie Solis or Krystle Gutierrez) or elsewhere obviously will be a key decision for Fox4. But Ryan is far more than a leftover lug nut.
In fact, WFAA8 has hired Flanagan with an eye toward adding a more "mature," yet nimble-witted presence to its morning team. Coltish Cynthia Izaguirre, just a bit past her first year as
Daybreak
's co-anchor, needs someone to play with. But the show also could use a leading man with a little tread on his tire. Flanagan won't be a father figure, but he could serve as Izaguirre's older brother. Whatever happens, the station hopes to stay the course for at least a few years after a year in which Justin Farmer, Brad Hawkins and Jeff Brady all have sat beside Izaguirre. Rolling rrrrrrrs and all.
Over at CBS11, veteran Scott Sams and co-anchor Ginger Allen are getting a nice assist from congenial meteorologist Jeff Jamison, who was deployed to early mornings after Julia Bologna headed back to her hometown of Pittsburgh last year.
Jamison gets out there and does stuff on occasion, but his fun from-the-field reports haven't rendered him a wacky weathercaster. He's a good new addition to a show that's been ratings-starved since its inception, in no small part because the following
CBS Early Show
has been terminally in the dumper.
Whatever happens, NBC5 lately has the best chance to establish a yawning gap between its early morning show and the others. Ferguson, Higgins, Dombeck and Lopez should be a prime focus of station promotion in the coming months. There's hay to be made while their principal rivals re-seed.