Bachelor rose petals wilt for Dallas flyboy Jake and ex-fiancee Vienna
06/22/10 04:25 PM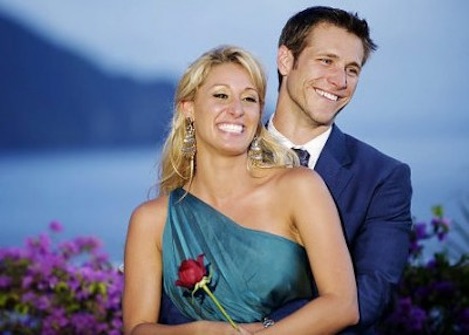 In pseudo happier times: Vienna Girardi and Jake Pavelka.
By ED BARK
In yet another phony reality show love story gone awry, Dallas palooka Jake Pavelka and his bikini model fiancee, Vienna Girardi, have split after declaring their undying love for each other on ABC's
The Bachelor
.
Allegations that he's a "fame whore" and she's been two-timing him led the two posers to part ways Monday night.
She subsequently tweeted, "The accusations of me cheating are completely fabricated. 100% false."
Pavelka
told TMZ on camera
that "we're split. Kind of a long story, man . . . I'm just saddened by the whole thing. Sometimes love just isn't enough in a relationship."
Still, they'll "remain friends," he insisted, which you can take to the bank along with Tiger Woods' many earlier declarations that he's a happily married family man.
Pavelka, a pilot by trade, segued from
The Bachelor
to an immediate gig on ABC's
Dancing with the Stars
. After that came a just-completed guest shot on Lifetime's
Drop Dead Diva
series. Fame whore? Yeah, maybe, although Girardi at the same time was tweeting, "Hey everyone. I have been really busy . . . Started training for a bikini fitness competition. Getting my mind and body focused. Xoxo."
So gee, you mean they weren't really Romeo and Juliet after all? Naughty
Bachelor
for making their "love" seem so deep and everlasting.
Reality check: You could have bet your net worth that this one eventually would come up empty. Both Pavelka and Girardi spend way too much time staring at their individual images in a mirror to mesh as anything in the vicinity of a loving couple. Oddly enough they deserved each other, though, as the perfect imperfect couple for our narcissistic age.
Now comes the deluge of coverage on
Entertainment Tonight, Access Hollywood, Extra
, etc. Let's see how long the both of them can milk their split-up.