This just in: A night in the lives of D-FW's late night newscasts (Fri., Feb. 25th)
02/27/11 02:44 PM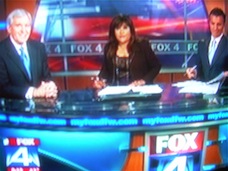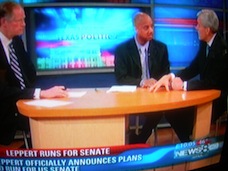 Former Dallas mayor Tom Leppert chose two Dallas TV stations to sell his new U.S. Senate candidacy. Nonetheless, WFAA8 trumpeted its sit-down as an "exclusive." You make the call. Photos: Ed Bark
By ED BARK
Friday's up-close look at the late night editions on D-FW's four major TV news providers marks the end of our two-week journey and nearly the end of the February "sweeps" ratings period, which winds up after Wednesday's presentations.
The highlight reel is less than eye-popping, which is typical of Fridays.
Fox4 again provided the best material, though, with its comparatively energized 9 p.m. edition. Newly minted U.S. Senate candidate and former Dallas mayor Tom Leppert was no quote machine. But he did spend a good deal of time live at the anchor desk with
Steve Eagar
and
Clarice Tinsley
, who was substituting for
Heather Hays.
Leppert entertained a variety of questions from the two, contending that his long shot candidacy will bear fruit when the Texas Republican primary is held just over a year from now.
"We think we've determined a very clear path to victory," he said.
"Where do you stand on unions?" Eagar bluntly asked him earlier.
Leppert gave the impression that he can't stand them, emphasizing that "right to work is critical" in Texas.
The lengthy Leppert segment stretched into two parts, with the candidate beaming at viewers like a third-wheel anchor while Tinsley told viewers their discussion would continue "after this break." Leppert wasn't exactly riveting before or after the commercial bloc, but Eagar and Tinsley did their best to bring him out.
Later, on WFAA8's 10 p.m. newscast, co-anchor
John McCaa
said that Leppert "told News 8 his intentions in an exclusive interview" taped earlier in the day for the station's Sunday morning
Inside Politics
program. The declaration of his Senate candidacy, while seated next to host
Brad Watson
and
Dallas Morning News
political reporter Gromer Jeffers, was hardly a news bulletin. Nor was it "exclusive" to anyone who had seen Leppert an hour earlier at the Fox4 anchor desk.
All four stations offered live reports from outside budget-crunched DISD headquarters, where teachers were camped out to be early in line for an incentive program that will let them collect 15 percent of their salaries -- with a cap of $10,000 -- for quitting their jobs.
Tinsley had the best introductory description, saying the scene at DISD "looks more like a Christmas season doorbusters line."
CBS11 reporter
Jay Gormley
took the silver medal for telling viewers that "it may be the hottest ticket in town. It's not U2. It's not R.E.M. This is DISD."
Fifth grade teacher Chris Czarnecki almost hit a grand slam. But Gormley left her out of his interview picture after Czarnecki got face time on Fox4, NBC5 and WFAA8. NBC5's
Ellen Goldberg
had the most pizza-eating shots after free pies were dropped off for the teachers.
Alleged terrorist bomber Khalid Ali-M Aldawsari's not guilty plea in Lubbock also drew coverage on all four stations. WFAA8 scooped the competition Thursday night with
Craig Civale
's interviews of two of the former Texas Tech student's roommates, both of whom appeared in silhouette at their request.
By Friday, though, the two young men had decided to both show their faces and give their names. WFAA8 had another go at them while CBS11 reporter
Jack Fink
also talked to the two. NBC5 again was the only station without a reporter presence in Lubbock.
Fox4 decided to accommodate a knuckle-dragger's ground level views on Aldawsari during Friday's extended "Viewers' Voice" segment. Said an unidentified male: "What you need to do is give him some of that Third World lovin' and cut their arms off. Once you have the evidence and show that on display they'll cut that crap out."
The station also flaunted the wisdom of "Manny from Garland," whose profane tirade at the anchors kept the bleeps rolling.
"Correct, castigate or completely flip out," Eagar encouraged "Viewers' Voice" participants before signing off with Manny saying, "You dumb sonofa . . ."
On a higher plane, Eagar brought home the pain of rapidly rising gas prices during an informative interview with former WFAA8 reporter Dan Ronan, who's now the head spokesman for Triple A Texas. Ronan had some interesting facts and figures, but didn't foresee any immediate consumer relief. Gas prices typically peak from mid-may to mid-July, he told Eagar.
On CBS11, viewers again got a double dose of reporter
Arezow Doost
, who also popped up twice earlier in our two-week monitoring period.
Doost led the 10 p.m. newscast with an interview of an elderly couple who allegedly were assaulted at an Arlington shopping mall by a since suspended Fort Worth fifth grade teacher whose students were on a field trip. She returned later with a lesser story on the possible dangers of meeting a man via internet dating sites that don't do background checks on their clients.
CBS11's
Tracy Kornet
then had an intriguing piece on how increasing numbers of women supposedly are "going gray" rather than hitting the dye bottle. Co-anchor
Doug Dunbar
riffed that both he and deskmate
Karen Borta
"have another 20 years before we have to worry about it." But in truth, only their hairdressers know for sure.
Friday's most ludicrous story tease came from WFAA8 anchor
Gloria Campos
, who's still no gray lady.
"Is your heater making you fat?" she asked. "A change in settings could change your look."
The resultant news blip, drawn from yet another likely nonsensical study, said that people who keep their homes warmer are "twice as likely to become obese" as those who turn down their thermostats. Guess that kills the sauna industry.
WFAA8 fared appreciably better with
Byron Harris'
report from Olney, Texas on a new energy-saving aircraft dubbed the "Carter Copter" by its inventor. And reporter
Monika Diaz
kept viewers up to date on the construction progress of the Dallas Convention Center Omni Hotel with an interior tour of the taxpayer-funded high-rise. It's supposed to open 11 months from now.
PROGRAMMING NOTE --
With just three weeknights remaining in the latest "sweeps," CBS11 is taking the unusual step of preempting its 10 p.m. Monday newscast for a
Crisis in the Classroom
special anchored by Borta and Dunbar.
The half-hour program initially was scheduled to air on Sunday, Feb. 20th at 5:30 p.m., but was waylaid by a CBS Sports overrun. Then it was set for the same time period on Sunday, Feb. 27th before the station opted for a much more visible 10 p.m. Monday showcase.
CBS11 news director
Adrienne Roark
has declined to talk about any gamesmanship behind the switch. But she confirmed that "a special devoted to one topic" means the station will be eliminating the ratings for its 10 p.m. newscast on a night when WFAA8 generally gets its best lead-in of the week from ABC's 9 p.m. Monday episode of
Castle
. But CBS also does quite well with
Hawaii Five-0
at that hour.
On Friday night's CBS11 newscast, Dunbar again assured viewers that following the special, "we'll all still be here to get you caught up on all the day's news and weather."
Whatever. CBS11 already has an all but insurmountable lead at 10 p.m. in the total viewer Nielsens and currently is No. 1 by a lesser margin among 25-to-54-year-olds, the main advertiser target audience for news programming. WFAA8, running second in total viewers at 10 p.m., has had a bigger overall audience than CBS11 on two of the previous three February sweeps Mondays.