Jane McGarry: public figure
05/09/12 02:21 PM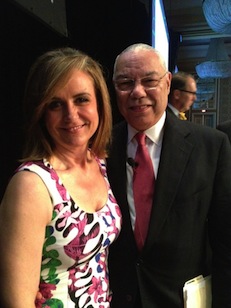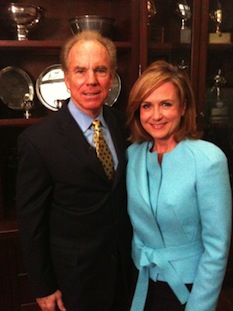 Jane McGarry posing with Colin Powell and Roger Staubach.
By ED BARK
@unclebarkycom
No. 1, NBC5 anchor Jane McGarry is not Public Enemy No. 1. Far from it.
She most certainly is a public figure, though. Those who contend she isn't -- and there are many -- perhaps should look at that little "Public Figure" tag on the
"Jane McGarry NBC5 Fan Page."
On that page and her
other Facebook page
, McGarry repeatedly asked/begged people to vote for her in
D
magazine's "Best of Big D Readers' Choice" poll until she went silent on May 6th. She's done the same on her
Twitter page
-- until recently, of course.
As just about everyone must know by now, McGarry was arrested early on the morning of Sunday, May 6th on a
DWI charge
. She since has been taken off the air indefinitely while NBC5
"looks into the matter."
Meanwhile,
The Dallas Morning News
cravenly and cynically has set up a "Who is your favorite Dallas-Fort Worth TV news anchor?" poll on its website. Her Facebook pals are rallying around it, with a guy named David Kelley writing, "All: Jane has overtaken the second-place newscaster and is now solidly in second place, herself. Only Meredith Land, Jane's worthy colleague, is ahead in the polling! Jane, these numbers are telling . . . you have support!"
McGarry's Facebook pages lately are filled to the brim with adulation, prayers and biblical passages. Take it from Karen Beth Giles, who says, "Let those WITH OUT SIN CAST THE FIRST STONE!! Jane You should keep your job! You were on your time not NBC's."
Hysterical. Other than perhaps Fox4 anchor Clarice Tinsley, nobody enjoys being perceived and portrayed as an around-the-clock TV star more than Jane McGarry. Her interviews with celebrities inevitably result in companion Facebook pictures of Jane and Colin Powell, Jane and Roger Staubach, Jane and Laura Bush, etc., etc.
Before all of this happened, anyone who tried to tell McGarry she's not a public figure might well have received a stony glare in return. Like many a TV anchor, both local and national, the perks of fame have become addictive. And McGarry, via obvious cosmetic touch-ups and other "youthful" touches, now comes off as desperate to stay in front of a TelePrompTer after 30 years at the station. It's kind of sad.
McGarry, who now has a police mug shot on her resume, has been roughed up a bit by some of the commenters on unclebarky.com. But for the most part, it's been a pretty above-board exchange that pales in comparison to the jokes and belittlement on other D-FW websites.
McGarry, more than anyone, should know she's fair game. She works for an industry that lives off juicy scandals and oft-petty crimes. See Jane run with stories about other celebrities caught in the media bullseye. Before her own little embarrassment, she joined with other NBC5 anchors in trumpeting the latest tidbits in the Deion/Pilar Sanders "Divorce Drama," a dropped-from-heaven saga that landed right in the middle of the May "sweeps" ratings period.
I've had limited one-on-one dealings with McGarry over the years. But all have been pleasant enough. And in happier times, she courted me via email to become one of her Facebook fans.
The sometimes gleeful reaction to McGarry's predicament may in part be tied to the equally gleeful manner in which television stations hunt their various prey. As some commenters have noted, a prominent D-FW politician or athlete charged with driving while intoxicated would be splashed all over local newscasts. In that respect, McGarry has gotten off relatively easy. Fox4 hasn't reported anything on her arrest while WFAA8 and CBS11 made it a one-day story. NBC5 waited a full day to "confirm" McGarry's arrest before airing a brief corporate-approved story while at the same time saying that station management will have no further comment.
It should be noted that NBC5 is one of the more forthcoming local stations when it comes to answering questions about their anchors, reporters or decision-making. CBS11 and CW33 also are usually prompt in replying, whether it's an official "no comment" or a basic confirmation of a hiring or departure.
All Fox4 responses now are handled through the station's corporate offices in New York. But at least there's usually some sort of reply. As for WFAA8's upper management, well, let's just say that inquiries from unclebarky.com are about as welcome as a hitchhiker with pets, to quote an old Dan Rather-ism.
McGarry's fate remains in the balance. But NBC5 has been phasing her out anyway, with the showcase 6 and 10 p.m. weekday newscasts in her past and the 5 p.m. newscasts her current reality along with those virtually invisible 6:30 p.m. "Nonstop Nightly" editions on the station's digital 5.2 channel.
If she survives, fine. But an on-air statement of apology should go along with any return to the air. If she's cut loose, so be it. McGarry long has been far more a personality than a journalist. And while her Facebook fans may threaten reprisals, NBC5 won't miss a beat. In Tuesday's Nielsen ratings, the station's McGarry-less 5 p.m. newscast ran first in both total viewers and 25-to-54-year-olds, the main advertiser target audience for news programming.
In the end, McGarry is paying the price of being a local celebrity and public figure. She should expect no less after trading on her fame and fortune for three decades. She had the misfortune to get caught. Now it's payback time.