Local Nielsen ratings snapshot (Fri.-Sun., Nov. 12-14) -- no more Wade-ing in; Cowboys ride Garrett's new wave to big win, big numbers
11/15/10 10:32 AM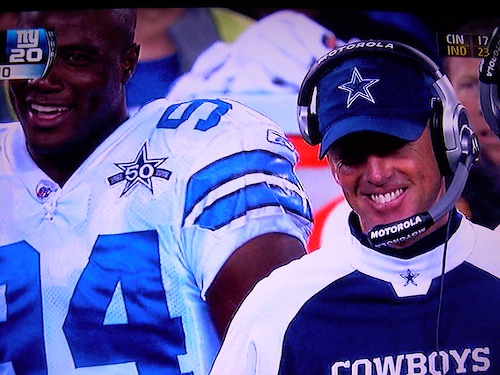 Smiley faces Sunday for DeMarcus Ware, Jason Garrett. Photo: Ed Bark
By ED BARK
Wow, that's all it took? The Dallas Cowboys regained their giddyup against the Giants Sunday, with their D-FW ratings also re-flexing.
Interrupted by a major power outage, Sunday's game on Fox ran all the way to 6:39 p.m., averaging 1,288,180 viewers with a peak crowd of 1,482,100 in the closing minutes. The Cowboys' 33-20 victory, under new head coach Jason Garrett, went down a lot easier in North Texas than the previous Sunday's prime-time swoon at Green Bay, which cost Wade Phillips his job and averaged 1,031,929 viewers on NBC.
The Peacock had a marquee game between the Patriots and Steelers this time around. It averaged 415,542 D-FW viewers, falling a bit short of the afternoon crowd for Fox's Bears-Vikings game (422,468 viewers). CBS' competing Texans-Jaguars game had 214,697 viewers.
Saturday's biggest football attraction, Oklahoma State's manhandling of the now hapless Texas Longhorns on ABC, likewise drew a prime-time crowd of 214,697 viewers.
In Friday's Nielsens, another 8 p.m. episode of Fox's made-in-Dallas
The Good Guys
again went largely unwatched. It tied for fourth with The CW's
Supernatural
in total viewers and fell to fifth in its time slot among advertiser-coveted 18-to-49-year-olds.
Friday's local news derby results put CBS11 atop the 10 p.m. total viewer ratings while NBC5 claimed a rare first among 25-to-54-year-olds, the main advertiser target audience for news programming on most stations.
Fox4 swept the 6 a.m. competitions and WFAA8 did likewise at 5 p.m. The 6 p.m. laurels were split between CBS11 in total viewers and Fox4 in the 25-to-54 demographic.