End of an era (again): Rowlett leaving The Texas Daily after one-year stint (updated with Dungan's decision to likewise leave)
09/17/13 12:15 PM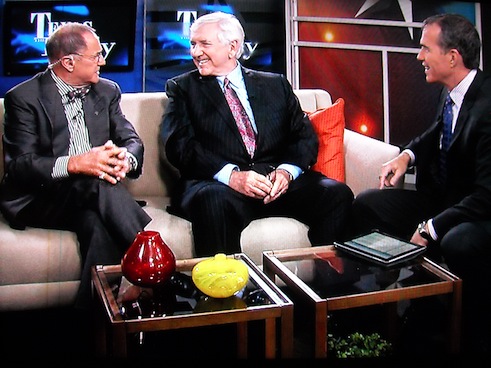 Left to right: Troy Dungan, Tracy Rowlett and host Jeff Brady on Oct. 1st inaugural edition of KTXD-TV's The Texas Daily. Photo: Ed Bark
By ED BARK
@unclebarkycom on Twitter
Tracy Rowlett, the most prominent "pundit" on KTXD-TV's Dallas-based
The Texas Daily
, has decided to leave the baby boomer-aimed news/information program after a one-year stay that began with its inception.
Rowlett told unclebarky.com Tuesday that his "final appearance" will be on the Tuesday, Sept. 17th edition. The two sides parted over financial issues, he said. The former WFAA8 and CBS11 anchor wanted more money to continue, particularly in light of London Broadcasting's decision to syndicate
The Texas Daily
on its six other owned-and-operated stations in Waco, Tyler, Abilene, San Angelo, Beaumont and Corpus Christi.
But London contended it couldn't afford to give him a raise because of problematic ratings, Rowlett said. "My letter of agreement expired today (Sept. 17th), so I wished them well and we parted amiably."
London executive vice president and chief operating officer Phil Hurley said he had no comment on Rowlett's decision other than "a thanks to Tracy and he can come back and join us anytime."
Launched on Oct. 1st of last year in a weekday 8 a.m. slot,
Texas Daily
later was switched to its current 6 p.m. time period, with repeats at 9:30 p.m. In Monday's ratings, via Nielsen Media Research, the 6 p.m. telecast had 5,507 viewers while the encore registered "hashmarks" (no measurable audience).
Rowlett generally appeared on the Monday and Tuesday hours with former WFAA8 weathercaster and close friend Troy Dungan.
"I have enjoyed working with Troy -- but will, once again, also enjoy retirement," Rowlett said.
Dungan initially said he hadn't yet decided whether to join Rowlett in re-retirement. "My agent is still in negotiations with KTXD," he said Tuesday.
But by Thursday evening, Dungan likewise had decided to call it a day.
"Just as I suspected, I was not able to come to a financial agreement with KTXD," he said via email. "I was willing to 'soldier on' without my buddy, Tracy, at least for another six months. It wouldn't have been nearly as much fun, but if possible I wanted to help them develop the show as they syndicate it. They wanted both Tracy and me to stay on, but they offered us no financial incentive. So today (Tuesday, Sept. 17th) is our last
Texas Daily
."
Rowlett anchored for a quarter-century at WFAA8 before joining CBS11 as that station's featured anchor in 1999. He
retired from CBS11
in March of 2007 and taught broadcast journalism classes at Southern Methodist University in recent years before the
Texas Daily
offer came along.
His departure from
Texas Daily
will be followed by at least one encore at KTXD. Rowlett is still scheduled to host the station's Nov. 22nd special coverage of the 50th anniversary of President John F. Kennedy's assassination in Dallas. Another longtime friend and workmate, John Sparks, will produce the program, "so this will be special in more than title," Rowlett said. "I think it will also be an exceptional broadcast. Fingers crossed."
Besides Rowlett and Dungan,
Texas Daily
's rotating roster of contributors includes Iola Johnson, Scott Murray, John Criswell, Debbie Denmon and several other mostly former WFAA8 news stars.
Texas Daily
's Monday through Friday host is Jeff Brady, who also used to anchor at WFAA8.
Hurley said KTXD is "working on some additions" to
Texas Daily
, but "nothing to announce." It is scheduled to go into syndication on Oct. 7th, he said, along with KTXD's weekday 9 to 11 a.m.
The Broadcast
. As previously posted, that program will be
shorn of its D magazine affiliation
after the Friday, Sept. 20th show.
Email comments or questions to:
unclebarky@verizon.net