This just in: A night in the lives of D-FW's late night newscasts (Wed., May 2)
05/03/07 01:05 PM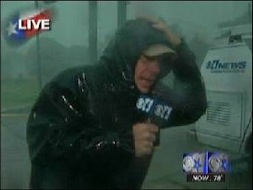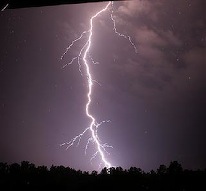 CBS11's Mark Johnson gets all wet in Fort Worth Wednesday.
By ED BARK
Maybe Mother Nature just wanted to cleanse the palate.
Severe storms are no laughing matter, and Wednesday's latest round caused some serious property damage in North Texas. But there's this, too. D-FW's weather-heavy late night local newscasts came and went without a single breaking crime story. That's right, not a one.
No purse snatchings, smash 'n' grabs, car jackings, sexual assaults, home invasions or a man sticking fish down his pants in a foiled grocery store robbery attempt. The latter was a big story on NBC5 Tuesday. But on the fourth day of the week, even the Peacock rested.
Instead, Fox4, NBC5, Belo8 and CBS11 threw their reporters and resources into the night's foul weather. In particular it provided a chance for CBS11 to show what it can do well under the new "urgent" regime of news director
Regent Ducas
.
The station led the league with nine different reporters stationed live throughout the viewing area. Its classic "whip-around" coverage was both seamless and competent.
Today's technology is pretty amazing when you think about it. During CBS11's 10 p.m. newscast, viewers sequentially were taken to Arlington (
Jack Fink
), Oak Cliff (
Jay Gormley
), Alvarado (
Chris Salcedo
), Colleyville (
Kaushal Patel
), Red Oak (
Stephanie Lucero
), Plano (
Brooke Richie
), West Fort Worth (
Kimberly Ball
), South Fort Worth (
Mark Johnson
) and Wylie (
J.D. Miles
).
CBS11 also found time to show a closing, taped collage of several reporters getting drenched and wind-whipped earlier Wednesday night.
Veteran
Mary Stewart
had all she could do to say, "We are struggling to stand up in this gale that is coming down on downtown Fort Worth."
Rival stations were no slouches either, but CBS11 merits at least this brief respite from all the criticism directed its way. Absent a storm we'll likely see a resumption of the new "run 'n' gun" approach that has many reporters up in arms. But the station deserves credit for a job well done on Wednesday's 10 p.m. news. CBS11 marshaled its forces and put on a solid show 'n' tell show.
Fox4 had live dispatches from eight different reporters, including sports anchor
Mike Doocy
. He was at Rangers Ballpark in Arlington when the storms turned the playing field into a swamp and washed out a scheduled game against the Yankees.
Most of the station's reporters had dried out by the 9 p.m. newscast, but
Emily Lopez
kept her yellow raincoat hood in place "because the hair's not lookin' so hot right now." It's always good to have your priorities straight.
NBC5 made room for six live weather reports, with intrepid
Scott Gordon
"chasing" the bad weather in the station's ostentatiously named Storm Tracker H3 vehicle. He eventually found himself at the Chicken Express in Alvarado, where it was lights out for the employees.
"We were all scared," said one young woman. "We all ran into the back."
The Peacock loves to use the scare-word. It ended Wednesday's newscast with a recycled soundbite from a man who experienced the storm's full fury.
"It's a little scary," he said. "It's a little scary." Cut to
The Tonight Show
.
Belo8 squeezed in five live weather reports. It otherwise devoted a good part of Wednesday's 10 p.m. newscast to
Brett Shipp
's eye-opening investigation of the now defunct Starfish Foundation, which apparently used large amounts of donated funds on various creature comforts instead of drug prevention.
On the storm front, reporter
Gary Reaves
had the citizen quote of the night from Oak Cliff.
"What was the storm like for you?" he asked a young dude in a car.
"Pretty crazy, man!" he responded. "Wild and everything. Wind everywhere. Water. Man, you couldn't see nothin' ! "
OK, it was more the
way
he said it.
Belo8's excitable
Shelly Slater
was in Plano, where she'd earlier let loose with a little squeal while being buffeted by the storm.
"Uh, I hear you," Slater said during that live report. "I'm just trying to stand up, seriously."
On Friday morning, Belo8
Daybreak
anchor
Jackie Hyland
told viewers, "You know, I think Shelley might actually make YouTube today."
As of mid-Thursday afternoon, that hadn't yet happened. But for a somewhat slow-loading Belo8 video of Slater and other reporters under duress, go
here
.