Day Four: Aguilar vs. Fox
12/09/10 05:13 PM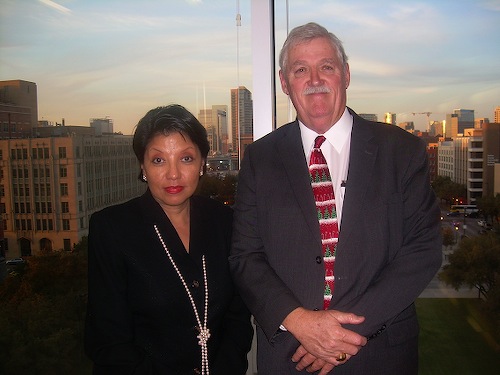 Rebecca Aguilar and lead attorney Bill Trantham Photo: Ed Bark
By ED BARK
The high stakes game of she said/she said continued during Thursday's court proceedings, with former Fox4 reporter Rebecca Aguilar and her ex-boss, vice president/news director Maria Barrs, again utterly at odds. This time an alleged apology is either true or false.
Aguilar, who is suing the Dallas-based station for wrongful termination, quickly fanned the flames in the opening minutes of her morning testimony after attorney Bill Trantham lit the match. Wearing his fourth Christmas tie in as many days, he asked Aguilar to recall a chance meeting between Barrs and Aguilar at the July 2009 funeral for reporter Brett Johnson, who worked for both NBC5 and Fox4.
During the previous day's testimony, Barrs flatly denied "apologizing" to Aguilar, but acknowledged reaching out to her because it seemed like "the appropriate thing to do" under the circumstances. Aguilar has a polar-opposite recollection.
"I feel a tug at my jacket, and it was her (Barrs), she told Trantham, her lead attorney.
Barrs then wished her good luck before inquiring about her son, Alex, Aguilar said. Then Barrs supposedly said, "I just want to tell you I regret everything I've done to you."
"I appreciate you saying that," Aguilar said she told Barrs, who next supposedly said, "I have a lot of regrets."
Aguilar said she was shocked by both admissions. Then another reporter walked up to hug her while Barrs walked away, Aguilar told Trantham.
During his session with Barrs Wednesday, Trantham asked her if she'd be surprised if a third party eyewitness could corroborate any apology to Aguilar.
"I would be surprised and disappointed that anyone would say that I said that," Barrs told him.
No such witness has materialized so far during the now four-day-old trial. But the jury is still out, so to speak.
Aguilar, who mostly blames Barrs for allegedly masterminding her downfall, was suspended from Fox4 on Oct. 16, 2007, the day after her controversial interview of a 70-year-old West Dallas salvage business owner. On the weekend before the interview, Walton had shot and killed an alleged burglar, the second time in three weeks that he had used deadly force on an intruder.
"He was a hot story. I mean, everybody was looking for him," Aguilar said in her testimony. "And you want the exclusive on that story."
Barrs previously said that Aguilar had "lied" to her about Walton's willingness to do an interview or be shown on camera. But Aguilar said she initially was praised throughout the newsroom for her scoop. The station then was hit by a wave of angry emails and phone calls from viewers who essentially accused her of bullying an elderly crime victim. Barrs earlier had termed it a "vehement response" unlike any she'd ever seen since becoming news director in 1998.
Aguilar recalled phoning Walton on the night the story aired. He never complained about his face fleetingly being shown on camera, but still "was really upset," she said. "He said it made him seem like an effin' weak old man."
Aguilar's paid suspension, under the standard "pay or play" terms of her contract, became an end game on March 6, 2008, when Fox4 exercised its option to drop her at the midway point of her latest two-year deal with the station. She still has trouble sleeping and continues to feel "terrible that it ended this way for me. I worked so hard."
"I missed my job right away," she added. "And I still do today. That was a punch in the gut."
Aguilar, who became teary-eyed on several occasions, said she remains "embarrassed" at letting her emotions often get the best of her whenever she's asked to recall her final day at Fox4.
In the last five years at the station, she broke about 125 "exclusives" a year," Aguilar claimed. "It's too bad at the end my firing overshadowed all that."
Her performance evaluations, which increasingly criticized both her workplace attitude and reporting skills, were "undeserved," she said. But "I definitely appreciate constructive criticism. Definitely," Aguilar emphasized.
In cross-examination, Fox's lead attorney, Michael Shaunessy, sought to depict Aguilar as wildly inconsistent in her praise and criticisms of her bosses. He also noted that she repeatedly received raises and contract renewals, most of them approved by Barrs, during her nearly 14 years at Fox4.
Under the terms of her 2005 contract, Aguilar's pay increased to $125,000 annually, he said, producing a verifying document that was shown to viewers. And even though Barrs was against another two-year renewal in 2007, Aguilar still got a new contract and raise, Shaunessy said.
Fox4 assignments editor Judi White, who has been at the station for more than 25 years, praised Aguilar's reporting skills in a 2007 video shown to jurors by her lawyers. It was in conjunction with Aguilar receiving that year's Broadcast Journalist of the Year award from the National Association of Hispanic Journalists.
But Shaunessy noted that Aguilar earlier had gone to the station's Human Resources department to complain about White being racially insensitive for allegedly saying that "at least I don't hide behind my ethnicity."
Commenting on White, Aguilar initially told Shaunessy, "I don't know what they did to her." She then acknowledged, "I had heard she got suspended."
(It was later learned out of the courtroom that White in fact did not receive a suspension.)
Shaunessy said that Aguilar also had issues with reporter Emily Lopez during her early days at Fox4.
"You told a lawyer in Dallas that KDFW (Fox4) had fired Emily Lopez, didn't you?" Shaunessy asked.
Aguilar also allegedly threw a tape at Lopez in a courtroom, told her "you're a joke" and later sent a derogatory email to her, Shaunessy said during his cross-examination of Aguilar. She denied all of those accusations.
Shaunessy also again replayed the raw video of Aguilar's parking lot interview with Walton, picking it apart in the process. He then asked, "You don't feel like you did anything wrong, do you?"
"No," said Aguilar.
"You'd give yourself an 'A' wouldn't you?"
"Yes."
Aguilar's stated physical and emotional problems since her suspension opened the door for Fox's attorneys to show jurors portions of her medical records. And so they did, with Shaunessy showing jurors a July 6, 2010 evaluation from her doctor that said of Aguilar: "She says she is feeling well and really has no complaints, except for some dry mouth."
An earlier doctor's report, also displayed, said that Aguilar is "now doing freelance (work) and is going to school and is much happier."
Shaunessy also questioned whether Aguilar had made any concerted effort to seek a reporting job at an area television station. Aguilar said she had sent a resume to CBS11 "a few months after I was fired" and also applied recently for an open investigative reporter's position.
Asked about any job possibilities at Fort Worth's NBC5, Aguilar said without elaboration, "I can't work at an NBC station."
Her husband, John, still works at Fox4 as a director in the station's news department. So if she got a reporter position in another TV market, he would have to start over, Aguilar noted during earlier questioning by her attorney.
During her more than three years away from Fox4, Aguilar, 52, said she had gone back to school to learn new multi-media skills and has been mentoring about 40 journalism students around the country. Her suit against Fox4 initially asked for a $2 million settlement under the direction of her first and now former attorney, Steve Kardell.
During questioning by Trantham, Aguilar said she would like to be financially compensated for three years of missed work, but said that all monetary decisions should be left to the jury.
The plaintiffs also called two of Aguilar's former Fox4 colleagues Thursday, reporter Saul Garza and editor Steve Yakub. Both remain at the station and were only briefly on the witness stand. Yakub said he didn't recall any initial news room complaints about Aguilar's Walton interview. He later was one of three off-camera Fox4 staffers who received brief suspensions for their roles in putting the story on the air.
Garza was asked if Aguilar was a "pleasant person" to work with.
"Yeah," he said. "She's tough . . . I personally have learned a lot from her."
Two other potential witnesses for the plaintiffs, Fox4 reporters Brandon Todd and Lari Barager, were excused from testimony by mutual agreement from both sides' lawyers. In a compromise, it was read into the record that both white reporters had made errors in two stories that aired in the late 1990s during their respective first years at the station.
On-air corrections were made in each case, and the reporters' subsequent written evaluations included mentions of the errors. Neither was suspended, and neither Todd or Barager has made a significant reporting error since, Fox4 management earlier testified without either reporter being named.
The defense called its first witness, veteran Fox4 reporter Shaun Rabb, during the last hour of Thursday afternoon's session, which was cut short by judge Jim Jordan's scheduled doctor's appointment for a surgical procedure on Wednesday of next week. He has insisted that the trial be completed before then.
Rabb praised Barrs and the other news managers that Aguilar had criticized. He also termed Aguilar an "excellent reporter" who in his view was treated "no different than anyone else."
It's common to have "spirited discussions" in TV news rooms, Rabb said. But "you've got to know when to hold 'em and know when to fold 'em . . . Discretion is the better part of valor."
This hasn't been a mirthful trial by any means. But Rabb drew the first genuine laughter of these proceedings when Aguilar's co-attorney, Chris Raesz, tried to stress the value of being first on a story.
If Channel 8, for instance, gets a scoop, "who's watching you at Channel 5" for a stale followup? he asked.
"Non one's gonna watch me at Channel 5, Mr. Raesz," Rabb deadpanned.
We'll close with his trademark sign-off: "Shaun Rabb. Fox4 -- pause, one-two-three -- news." His testimony will resume on Friday morning.