Local Nielsen ratings snapshot (Fri.-Sun., March 29-31) -- season finale of The Walking Dead beats Rangers season opener
04/01/13 09:48 AM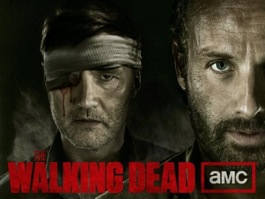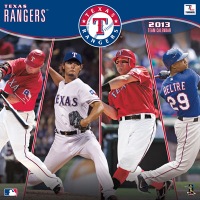 By ED BARK
@unclebarkycom
Well, the Rangers at times played like zombies but still couldn't keep up with
The Walking Dead
.
Texas' listless 8-2 season opening loss to the Houston Astros also served as Major League Baseball's first game of the 2013 season on ESPN. Over on AMC,
The Walking Dead
wrapped up Season 3 with another viscerally violent hour.
Dead
drew 309,789 D-FW viewers in the 8 p.m. hour, with a giant-sized bite of them -- 232,826 -- in the advertiser-prized 18-to-49 age range. The 8 to 9 p.m. portion of the Rangers game had 275,368 viewers with 130,765 of them within the 18-to-49 motherlode.
Overall, Rangers-Astros (which ended at 10:08 p.m.) averaged 261,600 total viewers, making the game Sunday's overall No. 2 attraction in prime-time behind only
Walking Dead
. But this comes with an asterisk, because D-FW ratings for History channel's concluding two hours of
The Bible
were not available.
HBO's 8 p.m. Season 3 premiere of
Game of Thrones
had a puny turnout in comparison, with 55,074 total viewers and 41,462 in the 18-to-49 demographic. But repeats added viewers throughout Sunday night while
Walking Dead
likewise padded its totals.
At 10 p.m., for instance,
Walking Dead
drew 48,189 viewers, with 41,462 of them 18-to-49-year-olds. At that same hour,
Game of Thrones
' respective totals were 41,305 and 35,083.
PBS also had a showcase premiere, the first two hours of
Mr. Selfridge
under the
Masterpiece Classic
banner. Starring Jeremy Piven in his first post-
Entourage
TV role,
Selfridge
had 48,189 total viewers with just 3,189 of the 18-to-49 persuasion.
During Sunday's afternoon and early evening hours, CBS had solid ratings for its two NCAA basketball tournament games. Michigan's rout of Florida drew 172,105 total viewers before Louisville's bashing of Duke pulled in 220,294. Over-runs and over-laps may slightly change those totals.
On ESPN2, Louisville's mega-upset of the No. 1 Baylor women's basketball team averaged 82,610 viewers with a peak crowd of 123,916 for the closing frenetic quarter-hour.
Saturday's pair of NCAA men's hoops attractions on CBS both drew smaller crowds than Sunday's. Syracuse's win over Marquette drew an average of 123,916 viewers before Wichita State's win over Ohio State had 151,452. ABC matched the latter total with its annual rebroadcast of
The Ten Commandments
, which dominated the prime-time Nielsens with 151,452 viewers.
OK, on to Friday, where TBS, not CBS, enjoyed the fruits of Michigan's remarkable comeback overtime win over Kansas at Jerry's Palace, The game, which ended at 9:05 p.m., averaged 130,800 viewers with a high point of 240,947. The second game in Arlington, a late 9:40 p.m. start time for Florida's spanking of Cinderella Florida Gulf Coast, drew an average of 178,989 viewers with a peak of 192,758.
CBS averaged 96,379 viewers for Louisville's win over Oregon and 130,800 for the Duke victory over Michigan State.
Pant-pant, here are Friday's local news derby numbers:
WFAA8 came very close to an exceedingly rare double grand slam, although CBS11 (its major competitor at 6 and 10 p.m. in the total viewers measurements), had those editions preempted by basketball.
WFAA8 ran first at 10 p.m. in total viewers and 25-to-54-year-olds, the main advertiser target audience for news programming. The ABC station also edged Fox4 at 6 a.m. in both measurements and likewise ran the table at 6 p.m.
Fox4 spoiled the party with a narrow 5 p.m. win among 25-to-54-year-olds while WFAA8 edged Fox4 in total viewers at that hour.
Email comments or questions to:
unclebarky@verizon.net