By the way, the below spokesman for Heart Attack Grill is now dead. He was 29
03/10/11 02:04 PM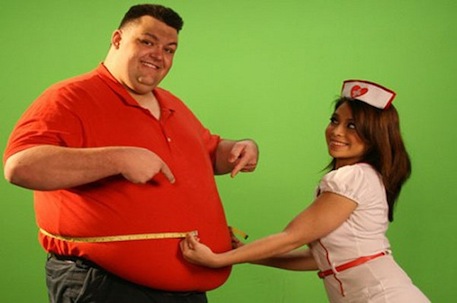 By ED BARK
As noted at the end of Wednesday's
lead story on Nightline
, Arizona-based Heart Attack Grill soon plans to have a second restaurant -- in Dallas.
The home of the Quadruple Bypass Burger and unlimited Flatliner Fries earlier revealed those plans in a February publicity release. Specifically, Heart Attack Grill plans to further enhance its reputation with a Market Street eatery due to open its doors in June.
The impetus for
Nightline
's story was the death last week of Heart Attack Grill's official spokesman, 570-pound Blair River. He died of pneumonia at age 29 after a short lifetime of eating free at the Heart Attack Grill. All patrons weighing in at over 350 pounds have that "privilege."
The owner of the restaurant, "Dr. Jon" Basso, nonchalantly told
Nightline
that "had he (Blair) been thinner, he most likely would have survived that pneumonia."
Basso has no remorse whatsoever, contending that Heart Attack Grill represents "shock therapy" for those looking to win their battles of the bulge.
Nightline
called the restaurant a "monument to greasy gluttony." One of Heart Attack Grill's slogans says it offers a "taste worth dying for."
All patrons must wear a hospital gown while eating. And they're served by waitresses in abbreviated nurse's costumes. Anyone who polishes off a Triple or Quadruple Bypass Burger receives the added honor of being transported to his or her vehicle in a wheelchair pushed by a "personal nurse."
Yeah, it's a free country, although it's certainly not what makes this country great. And Heart Attack Grill loves all the attention it's received from numerous media outlets since the 2005 opening of its first and so far only restaurant in the Phoenix suburb of Chandler.
Should the restaurant be a success in Dallas, then maybe we're just getting what we deserve. We are what we eat, and there's absolutely no doubt that Dallas' own Heart Attack Grill will be gang-covered by every area TV station on the day of its grand opening. Maybe they'll even be able to shoot some of the happy customers from the waist up rather than showing all of those anonymous oversized asses and bellies during recurring stories on America's "obesity epidemic."
The restaurant already has a new 500-pound-plus spokesman, a guy named Ernie Hart. He was the restaurant's original pitchman but was unable to perform his duties for a few months while recovering from open heart surgery and a companion coma. Near story's end,
Nightline
showed Hart happily wrapping his industrial-sized mouth around an 8,000 calorie Quadruple Bypass Burger. He's seemingly intent on living life to its fullest.
In memoriam, here's Blair River's last commercial for Heart Attack Grill. Viewers are warned that "in some cases, mild death may occur."