Local Nielsen ratings snapshot (Thurs.-Sun., Dec. 15-18) -- Cowboys fall just shy of season highs
12/19/16 11:05 AM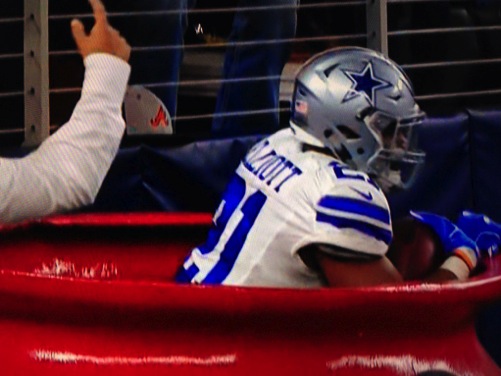 Zeke did the Salvation Army kettle leap after TD run. Photo: Ed Bark
By ED BARK
@unclebarkycom on Twitter
The crowd-pleasing return of Dak and Zeke in full force wasn't quite enough to propel the Dallas Cowboys to new season ratings highs Sunday night.
But the 26-20 home win over Tampa Bay on NBC's national
Sunday Night Football
stage still ranked high on the DFW charts with 1,934,113 total viewers and 792,154 in the advertiser-prized 18-to-49-year-old demographic.
The previous Sunday's 10-7 road loss to the New York Giants on
Sunday Night Football
remains the overall top draw with 1,963,197 total viewers and 817,811 in the 18-to-49 age range. Dallas' Thanksgiving Day home win over the Washington Redskins also drew a few more total viewers with 1,941,384. Cowboys-Tampa Bay moves into second place on the 18-to-49 charts, with Cowboys-Redskins falling to third (782,532).
CBS' mid-afternoon/early evening New England Patriots-Denver Broncos face-off ran second among Sunday's NFL attractions with 588,959 total viewers. Fox's noon-starting New York Giants-Detroit Lions game finished close behind with 552,604 total viewers.
On Saturday, the prime-time Miami Dolphins-New York Jets contest, shown only on the NFL Network, came up a ratings stinker with just 123,609 total viewers. It was outdrawn later in the night by NBC's new edition of
Saturday Night Live
, which had 167,235 viewers with Casey Affleck hosting.
In Friday's prime-time Nielsens, CBS' 8 p.m. episode of
Hawaii Five-0
was the top draw with 203,591 total viewers. And on Thursday night, the Seattle Seahawks' demolishment of the Los Angeles Rams drew the biggest crowd with 276,302 total viewers on NBC and 101,795 for the NFL Net simulcast.
Here are the Thursday-Friday local news derby results.
Thursday
-- Fox4 and TEGNA8 tied for the most total viewers at 10 p.m. in a down-sized three-way race. Fox4 was alone on top with 25-to-54-year-olds (main advertiser target audience for news programming).
Fox4 also had twin wins at 6 a.m. while NBC5 again ran the table at 5 and 6 p.m.
Friday
-- TEGNA8 and CBS11 shared first place in the total viewers race, but NBC5 drew the most 25-to-54-year-olds at 10 p.m..
Fox4 swept the 6 a.m. competitions and NBC5 did likewise at 6 p.m. Fox4 was tops in total viewers at 5 p.m. and tied NBC5 and TEGNA8 for No. 1 among 25-to-54-year-olds.
Email comments or questions to:
unclebarky@verizon.net