Local Nielsen ratings snapshot (Wed., May 26) -- Idol finale scores big, CBS11 clinches first-ever across-the-board 10 p.m. newscast win
05/27/10 10:51 AM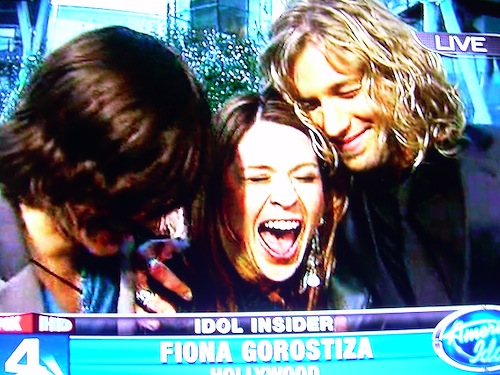 Fox4's giddy Fiona Gorostiza makes a "sandwich," as she put it, between North Texas' two American Idol Top 10ers, Tim Urban and Casey James, during the station's 9 p.m. newscast. Photo: Ed Bark
By ED BARK
Bleeding seven minutes past 9 p.m., the Season 9 finale of Fox's
American Idol
dominated as expected Wednesday night.
Including the seven-minute runover,
Idol
averaged 549,690 D-FW viewers while also calling the tune among advertiser-coveted 18-to-49-year-olds.
Fox4's abbreviated 9 p.m. newscast, in large part a hard-to-take celebratory
Idol
post mortem, then lost viewers in each 15-minute increment. Overall it drew 217,162 total viewers, finishing second to the season finale of CBS'
CSI: NY
(271,452 viewers).
Fox4's
Idol
onslaught included reporter Fiona Gorostiza's borderline hysterical live red carpet reports from outside L.A.'s Nokia Theatre. She was joined by fashion critic "Stylin' Steve," who for some reason is still an occasional part of Fox4's fluff 'n' puff stuff.
SS said "amazing" enough times for the word to cower in a fetal position and demand to be put out of its misery. Gorostiza, who brought a guitar to be autographed, displayed some of the signatures she'd gathered before going ape in the company of North Texas
Idol
contenders Casey James of Cool and Tim Urban of Duncanville.
Fox4 can't be entirely blamed for ramping up its
Idol
coverage on the show's annual big night. But a little of this goes a long way -- and a lot of this is virtually unwatchable let alone embarrassing.
Back at the station's downtown Dallas studios, co-anchor Heather Hays called on the expertise of Arlington's Todrick Hall (one of this season's 12 male semi-finalists) and Celena Rae, still milking her distant also-ran status from Season 4. All three pretty much agreed that everything had been great this season. Fox4 devoted three segments to their largely redundant "analysis." One would have been more than enough.
Meanwhile, CBS11 ran the table at 10 p.m. on the last night of the May "sweeps" ratings period. Its wins in total viewers and with 25-to-54-year-olds (main advertiser target audience for news programming) clinched the station's first-ever across-the-board golds in a ratings sweeps period. (
We'll have a complete sweeps results report a bit later.
)
NBC5 swept Wednesday's 6 a.m. news competitions while CBS11 did likewise at both 5 and 6 p.m.
WFAA8 ended the sweeps without a Wednesday win in any of the four major news competitions. That's still hard to believe.