WFAA8 anchor Shelly Slater soon will be delivering more than the news (updated)
03/11/10 10:34 PM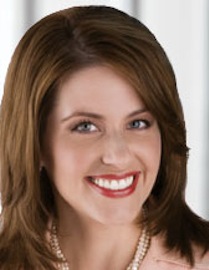 By ED BARK
Several vigilant readers have asked whether WFAA8 anchor
Shelly Slater
is an expectant first-time mother.
"Yes, I am pregnant!" she replied via email to unclebarky.com. "Let me guess . . . the open suit jackets and the teenage acne are dead give aways?"
Slater, who joined Dallas-based WFAA8 in September 2006, said she is due in early August and "we find out the sex of the baby on St. Patrick's Day!" (It will be a boy, she announced on the appointed day's 5 p.m. newscast.)
"I haven't announced anything on-air about the baby," she added, "but my husband and I are thrilled, nervous and anxious all at the same time."
Congratulations to both of them. Slater currently is co-anchoring WFAA8's 5 p.m. weekday newscasts while continuing to report as well. She also regularly substitute anchors on the station's 6 and 10 p.m. newscasts.