WFAA8's Shon Gables has another strike against her in Michigan court
01/25/12 10:50 AM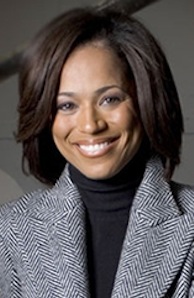 Shon Gables in wfaa.com photoBy ED BARK
The
longstanding $35,000 slander judgement
against WFAA8 anchor/reporter Shon Gables took another turn late last week when a Michigan circuit court judge ordered the seizure and selling of any personal property remaining in the Southfield, MI condo where she once resided.
The slander judgment, rendered by judge Jeanne Stempiem, dates to April 7, 2010. Since that time, Gables (formerly known as Shondella Morton) has been cited for contempt of court for twice failing to appear as ordered in a Michigan courtroom. Last year, a warrant was issued for Gables' arrest. It remains in effect, with her bond raised from $2,000 to $25,000 if she is apprehended in the state of Michigan.
The original slander suit was filed by Richard Klamka, the attorney brother of Gables' second husband, Peter Klamka. Gables, who joined WFAA8 in January 2010, has since remarried and has a daughter by her third husband. She also has two sons from the previous marriages.
The latest ruling, issued Friday, does not allow authorities to confiscate any property in Gables' current Frisco,TX residence. But notifications of the seize and sell order have been sent to both the Southfield and Frisco addresses, as well as to WFAA8 offices in downtown Dallas, according to the court document signed by judge Stempiem.
WFAA8 news director Michael Valentine has declined to comment on the matter, other than to say that "I'm in constant communication with Shon and she has kept me up to date on the issue."
Gables' Southfield, MI condo was foreclosed on in November, but sources close to the case say that she has six months to redeem the property, which remains in her name. It has been rented out during periods since the foreclosure. Gables worked at WDIV-TV in Detroit until 2003, when she joined the staff of New York City's
CBS 2 News This Morning
.
The seize and sell order allows authorities to confiscate motor vehicles, money, home appliances, etc. After a public auction, any proceeds would be distributed to the plaintiffs in the case. That sum would then be deducted from the $35,000 judgment against Gables, which with interest accrued has now increased to $38,671 according to court documents.
Gables anchors WFAA8's weekend early morning newscasts and also reports three days a week. She was out in the elements during the station's Wednesday, Jan. 25th
Daybreak
program, reporting live on the "puddling and ponding" in thoroughfares near White Rock Lake.
Gables also lately has been documenting her ongoing weight loss regimen on
newnaturalista.com
.