While fading away, old weathercasters also do commercials
02/06/14 02:01 PM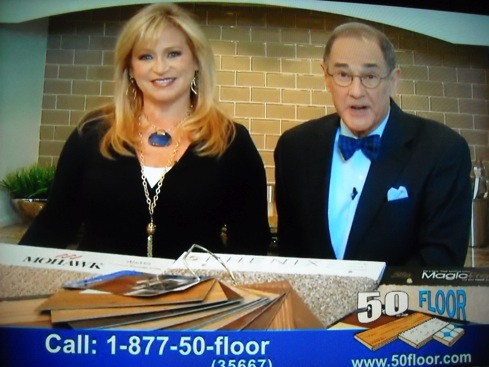 The windup and then the pitch: Former D-FW weathercasters Rebecca Miller and Troy Dungan double-team it for home flooring company.
Photo: Ed Bark
By ED BARK
@unclebarkycom on Twitter
Attention current D-FW weathercasters. This could be your future.
Troy Dungan, who used to be the longtime temperature-taker for WFAA8, has already been seen frequently as a pitchman for foundation and electrical repair companies.
Now, in what's likely a North Texas first, a commercial for
50floor.com
is fronted by both Dungan and former NBC5/CW33 meteorologist Rebecca Miller. They predict your happiness with the great deal you can get on a new custom-built floor.
I ran into their 30-second spot during an episode of HGTV's
House Hunters International
, a show that my wife really likes on those occasions when she wrestles the remote from your friendly content provider. Miller is relatively new at this game, but Dungan has been pitching for several years, always in his trademark bow tie.
Weathercasters now log as much or more time on local newscasts as the news anchors. That's particularly true on a cold, snowy, traffic-slowing day like today -- although any old little drizzle will do. Viewers are supposed to put a lot of trust in them. And the increasingly sophisticated tools at hand are greatly decreasing the times when they're just flat out wrong. Companies like this sort of reliability. Or to put it another way, would you buy a used car from provocative, regularly "Unplugged" WFAA8 sports anchor Dale Hansen or Dungan?
So who'd be the ultimate pitchman among ongoing D-FW map readers? That's pretty easy. NBC5's David Finfrock, who's said he'll be retiring in the next few years, is the sort of soothing, beyond reproach presence that just about any employer would be happy to make a spokesman.
Here's a guy who could sell a reverse mortgage with the greatest of ease. Lawn care companies, funeral parlors, insurance sellers and assisted living centers also would be in good hands with David Finfrock. Imagine him saying, "Folks, I wouldn't put my name behind Sunny Side Up Retirement Village if I hadn't first spent a week in their care." Sold!!!
On the other hand, Dungan's WFAA8 successor, Pete Delkus, will have to take it down at least a few notches if he wants to someday cash in on being a pitchman. Prospective customers instead might have anxiety attacks after watching a shirtsleeved Pete lean into the screen before telling them, "TEMPERATURES MAY DROP AS MUCH AS 10 DEGREES TONIGHT! BUT YOU'LL STILL SLEEP LIKE A BABY IF YOUR HOME IS PROTECTED BY THE FINE FOLKS AT IRV ERVIN INSULATION!"
By the way, we recently had our floors replaced. Sorry, Troy and Rebecca.
Email comments or questions to:
unclebarky@verizon.net