Local Nielsen ratings snapshot (Wed., Oct. 27) -- nearly 1.5 million watch Rangers get hammered
10/28/10 11:22 AM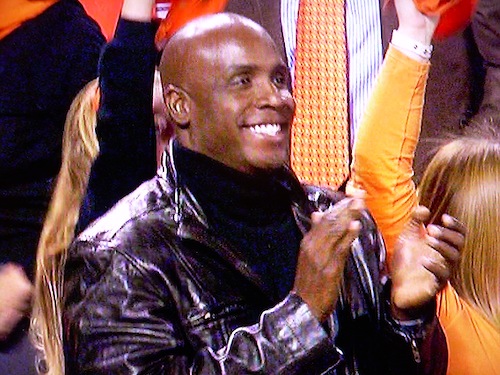 Still a hero in SF, Barry Bonds had fun Wednesday. Photo: Ed Bark
By ED BARK
The Texas Rangers and pitcher Cliff Lee took a Giants step backwards Wednesday night on baseball's biggest stage and before a record crowd of D-FW viewers.
San Francisco's 11-7 pounding of Texas in Game 1 of the World Series averaged 1,419,769 viewers. And had it been closer -- the Rangers trailed 11-4 entering the ninth -- the crowd likely would have hit the 1.5 million mark for a game that ran from 7 to 10:35 p.m..
A peak audience of 1,613,688 watched between 8:30 and 8:45 p.m. But in the final 15-minute increment -- 10:30 to 10:45 p.m. -- the crowd had dwindled to 1,031,929.
Over on Fox Sports Southwest, the Dallas Mavericks were virtually Invisible Men while winning their regular season opener against the Charlotte Bobcats. The game averaged a sub-dinky 41,554 viewers, a little over twice as many as the announced 19,440 who watched in person at the American Airlines Center. That's under the radar with a vengeance.
Wednesday's most popular attraction opposite the Rangers -- CBS' 8 p.m. episode of
Criminal Minds
-- had 235,474 viewers locally.
In local news derby results, 10 p.m. newscast ratings again were diminished by the Rangers overrun. WFAA8 comfortably topped the three-way field with just 166,217 total viewers and also won among 25-to-54-year-olds, the main advertiser target audience for news programming on most stations.
Fox4 remained dominant at 6 a.m. with twin wins and also swept the 6 p.m. competitions. The station's much bigger than usual numbers at the later hour (228,548 total viewers) were evidence of a TV set "warm-up" for Fox's following 6:30 p.m. World Series pre-game show. At 5 p.m., WFAA8 led in total viewers and Fox4 ran first with 25-to-54-year-olds.
There remains very scant interest in TXA21's live 7 to 9 a.m. simulcast of Jody Dean's KLUV radio morning show. Wednesday's third go-around averaged 2,078 total viewers, 311 of them in the 25-to-54 age range. This is in a market of 6.9 million viewers, according to Nielsen Media Research estimates.
Dean and his team are ratings Goliaths, however, compared to the two syndicated programs following them. At 9 and 10 a.m. Wednesday,
Dr. Phil
and
The Doctors
logged "hashmarks" (no measurable audience).