It's officially Good Guys Day in Dallas (but tonight's national ratings will be of far more import)
06/07/10 12:25 PM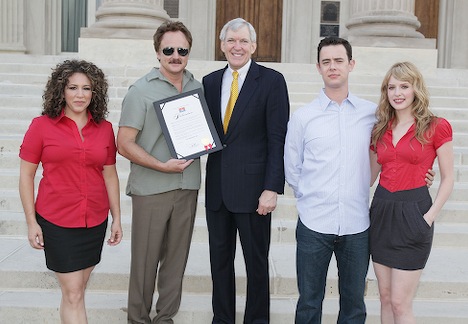 Dallas Mayor Tom Leppert (center) decrees "Good Guys Day" at an early morning ceremony Monday. Joining in are stars Diana Maria Riva, Bradley Whitford, Colin Hanks and Jenny Wade. Fox photo
Monday dawned bright and clear as
The Good Guys
Day in Dallas, courtesy of Mayor Tom Leppert.
The Fox series' principal stars agreeably gripped and grinned with the mayor during an early call at the Dallas Scottish Rite Library and Museum. Then it was back to work.
The Good Guys
, a retro serio-comic cop drama being filmed entirely in North Texas, premieres in its regular summertime Monday time slot on
June 7th at 8 p.m. central
. Last month's sneak preview did well in the local Nielsen ratings but pretty much flopped nationally. So tonight's performance will be of more than marginal importance, even though
Good Guys
already has been given a Friday night berth on Fox's fall schedule.
Our previously posted review of tonight's entertaining "Bait and Switch" episode
can be found here
.
Ed Bark