Back to earth and to Arlington: C.J. no C.C. (who wasn't that great either) in 7-2 Rangers loss
10/20/10 07:01 PM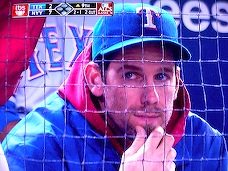 Gotta love that Yankee 'tude. They're referring to the guy on the right, who will pitch Game 7 in Arlington if necessary. Photos: Ed Bark
By ED BARK
Eleven hits in six innings against the opposing team's ace usually is enough to keep you in a ballgame.
But not when you don't string them together. And not when your own starting pitcher is wildly ineffective.
Texas Rangers starter C.J. Wilson had one of his worst outings of the season in Game 5 of the ALCS, giving up 6 runs in 5 innings Wednesday afternoon. He was fortunate it wasn't more.
The New York Yankees' C.C. Sabathia was hardly sharp. But he gutted it out for six innings and left with his team ahead 6-2. Sabathia ended his start by striking out a game Mitch Moreland on a wicked 2-2 curve ball with runners at second and third and two out. Moreland had fouled off several tough two-strike pitches but was frozen by this one. Anyone else at the plate would have been, too.
A seventh inning pickoff of Elvis Andrus at second base ended any realistic chance of the Rangers ending this series on the Yankees' home field. They still lead by a 3-2 margin, with Game 6 coming Friday night in Arlington.
Texas helped Sabathia out by swinging at too many low pitches out of the strike zone. But Wilson was no help at all to his team. Besides giving up back-to-back solo home runs in the 3rd inning, he threw wildly to the plate to give the Yankees a 3-0 lead an inning earlier. All in all, he made Tommy Hunter's ineffective Game 3 start look good. He gave up three runs in three and a third innings.
Game 5 was another marathon, running from 3:07 to 6:55 p.m. Announcers are bound to make a mistake or two in a game this long, and TBS play-by-play guy Ernie Johnson complied as the Yankees got ready to hit in the bottom of the 7th.
"Kerry Wood got the job done with the inning-ending double play," he told booth mates John Smoltz and Ron Darling, neither of whom corrected him.
Not exactly. Wood picked Andrus off second base and then struck out Josh Hamilton to end the Rangers' 7th.
Still, I don't think Johnson is nearly as bad as some unclebarky.com commenters do. Others are definitely better, and it'd be far preferable to have the Fox team of Joe Buck and Tim McCarver.
But Johnson scored with at least a few one-liners Wednesday, including his introduction of Josh Hamilton's first at bat.
"The boos rain down as Roy Hobbs steps in," he said, a reference to the storied Robert Redford character in
The Natural
. Hamilton had homered twice in Game 4 but had no big hits Wednesday.
It was also Johnson who brought an end to the incessant first-inning Sabathia chatter by Smoltz and Darling. Both ex-pitchers otherwise are solid in explaining the nuances of situational pitching. So in short, I can live with these three. And there's no choice in the matter anyway.
Game 6 should be a ratings whopper in D-FW. Even more so than Tuesday's big prime-time Rangers win, which averaged more than one million viewers to put the North Texas Nine in roughly the same ballpark as the Cowboys.
And should there be a Game 7 on Saturday night, well, that would be a ratings blockbuster. Ain't baseball fun?