"The 33's" weather team now a one-man band
10/07/08 10:24 AM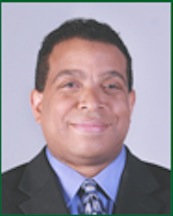 Weathercaster Fred BarnhillBy ED BARK
Meteorologist Fred Barnhill, who's mostly worked "The 33's" weekend shift since joining the station in 1999, abruptly called it quits Monday.
His departure leaves Bob Goosmann as the station's lone temperature-taker and renews speculation that former NBC5 early morning meteorologist Rebecca Miller might be in line to fill Barnhill's vacancy.
Rule that out, she says.
"I have no interest in working weekends, but I would certainly help them out as they search for his (Barnhill's) replacement," Miller said via email Tuesday.
As previously reported, a freelancing Miller recently filled in for Goosmann on three of The 33's late September 9 p.m. newscasts.
"He's such a nice person," she said of Barnhill. "And he helped me learn the computer graphics system at Channel 33 when I was filling in. I'm sad to see him go, and I hope he's got something great lined up."
Several of Barnhill's co-workers also praised him as "one of the nicest people in the newsroom." None wanted to be identified in times when The 33's newscast is under reconstruction with newly appointed news director David Duitch at the controls. He earlier held that position at WFAA8 from 1999 to 2004. Another WFAA8 alum, producer Rob Cartwright, is now Duitch's assistant news director.
Previously owned by Tribune Corp., The 33 now is under the private ownership of notoriously outspoken and unpredictable Chicago billionaire Sam Zell. He reportedly intends to significantly expand the local news operations at all or most of the former Tribune stations. A new early morning weekday newscast supposedly is in The 33's future, but not until sometime next year if ever.
Meanwhile, some incumbent news staffers at The 33 "are working without contracts and there's no talk of any negotiations in the works," according to a station source. "My guess is many of us will be gone when the newscast relaunches again."
In reality, no one knows anything for sure. A gut-grinding, down-spiraling economy and resultant diminished advertising revenues have given every TV newsroom the shakes.