Good Day viewers get first taste of Przybyl
09/16/09 11:21 AM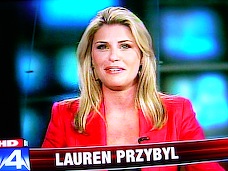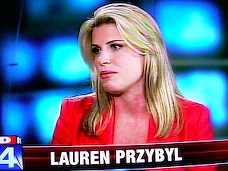 Good Day's new co-anchor arrived on tape Wednesday. Photos: Ed Bark
By ED BARK
Local television's least-kept secret, incoming
Good Day
co-anchor Lauren Przybyl (PRIZ-BULL), made her Fox4 debut Wednesday morning via a trio of videotaped segments.
It put an official end to the Dallas-based station's
"What's a Przybyl?"
campaign, in which incumbent anchor Tim Ryan served as front man. Readers of unclebarky.com have
known the answer since late July
, but Fox4 had declined to confirm Pryzbyl's hiring from WHDH-TV in Boston. Her official start date on
Good Day
is Monday, Sept. 21st.
Ryan further primed the pump Wednesday by introducing three video snippets of the North Texas native and Baylor University grad. In the first one, which aired at 6:26 a.m., she revealed "the most valuable lesson that she has learned and I should learn," Ryan said.
Przybyl (typos probably are inevitable) said she's learned from experience to "be nice to people. You never know when you'll run into them again."
Reporters interview people on some of the best and worst days of their lives, she said. "You've gotta be friendly. And you've got to put on a happy face. And more importantly, you have to be understanding and respectful at the same time."
Przybyl later talked about covering the Rattlesnake Roundup as a rookie reporter in Abilene and of getting to know recurring
Good Day
guest Pat Green during the time the country singer served beer at
George's bar
in Waco while she imbibed as a Baylor student.
Good Day
currently is locked in a seesaw battle for first place with NBC5's 6 a.m. waker-upper. The Peacock won Tuesday's ratings race, but Fox4 was on top of the Monday Nielsens. Pryzbyl is replacing Megan Henderson, who left
Good Day
at the end of the February ratings "sweeps" to join
KTLA-TV
in Los Angeles.
We leave you with a picture of Ryan and temporary
Good Day
co-anchor Dan Godwin high-kicking with the Radio City Music Hall Rockettes at the end of Wednesday's show. Merry Christmas.