This just in: A night in the lives of D-FW's late night newscasts (Tues., Feb. 22nd)
02/23/11 11:36 AM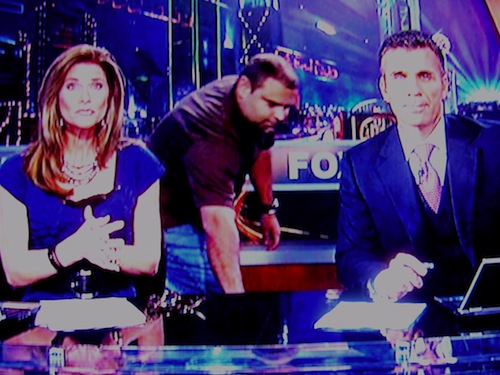 A fake thief pilfered Heather Hays' purse Tuesday. Photos: Ed Bark
By ED BARK
Stay with me now. It actually wasn't that bad of an idea to stage the thievery of Fox4 anchor
Heather Hays'
purse while she and
Steve Eagar
presided over Tuesday's 9 p.m. newscast.
This turned out to be an experiment in witness identification on a station that continues to be more experimental by far than any of its local news competitors. And at least as often as not, this turns out to be a pretty good thing.
Tuesday's gambit was tied to Eager's subsequent live in-studio interview with Dallas County district attorney Craig Watkins, whose office is pushing for a state bill that would reform how police conduct lineups of suspected criminals. After the phony theft, Watkins and viewers were challenged to pick the purse snatcher from a lineup of five men shown in black and white photos on home screens.
Intentionally or not, Watkins picked the wrong guy. Which only served to buttress his argument that suspect identification can be a very tricky business.
One of the proposed changes in how it's done would ensure that the investigator showing a police lineup to witnesses has no knowledge of who the prime suspect is. Watkins contends that investigators armed with that information can sometimes subtly or not so subtly influence witnesses via body language, gestures or even a "nudge." Eagar noted that 21 convicted men have been exonerated during Watkins' term in office after being wrongly identified by eyewitnesses.
Watkins proved to be a well-spoken, direct-speaking interviewee and Eagar was a very able questioner during their extended segment together. And Fox4 again proved to be anything but dull in times when all local newscasts are being challenged to maintain their ratings when lousy weather doesn't do it for them.
Hays also did a live interview, this one tied to Tuesday's Dallas County Commissioners court hearing at which the police security seemed to be ridiculously beefed up following last week's heavily covered fireworks between commissioner John Wiley Price and speaker Jeff Turner. County Judge Clay Jenkins can't seem to reach a happy medium between letting the proceedings get out of hand and handcuffing citizens to the point where they were repeatedly deemed out of order and told to sit down.
"A lot of our citizens were robbed today of a chance to speak out," former DISD trustee Ron Price told Hays. Personal attacks or racial invective should not be tolerated, but pointed discourse is still integral to a free society, Price said. He made reasoned points throughout the interview, again giving Fox4 viewers something to chew on beyond the rote-like news blips that popped up Tuesday night on NBC5, WFAA8 and CBS11.
WFAA8 led its 10 p.m. newscast with an "exclusive" report that Dallas Mayor Tom Leppert officially would announce his long-rumored resignation Wednesday before mounting a full-time run for a U.S. Senate seat. Reporter
Brad Watson
did the story from the station's news room, citing "informed sources."
It should be noted that Leppert's chief of staff, Chris Heinbaugh, took that position in August 2007 after a seven-year stint as a full-time WFAA8 reporter.
The Dallas Morning News
, which regularly collaborates with across-the-street partner WFAA8 on local stories, also reported in Wednesday's print edition that it had learned "late Tuesday" of Leppert's resignation. The newspaper likewise cited unnamed sources.
However WFAA8 obtained the information, it definitely had it before any competing TV station.
NBC5 in contrast led its 10 p.m. edition with Wal-Mart's announced plans to open 12 new stores in Dallas, including three in the development-challenged southern sector.
"That is tax money and jobs the city has longed for," co-anchor
Meredith Land
said of the $200 million investment before turning the story over to reporter
Omar Villafranca
, who as usual handled it capably.
WFAA8 and CBS11 touched briefly on the Wal-Mart initiative while Fox4 oddly ignored it entirely. WFAA8 co-anchor
John McCaa
misspoke, though, when he added that Kroger also had announced a $200 million renovation of its South Oak Cliff grocery store. $200 million!? He meant to say $2 million.
CBS11 again strove to "own" the ongoing North Texas school budget shortfall story, devoting the first seven minutes of Tuesday's newscast to "Crisis in the Classroom" coverage. This included reporter
Andrea Lucia
's session with Arlington Girl Scouts who are writing state lawmakers with suggestions of how to help. On Monday night, reporter
Arezow Doost
got the views of a group of seven 1st-to-3rd graders. This is no coincidence. CBS11 is intent on including the formative wisdom of young students in its coverage. And so far it's been a pretty refreshing and cute idea.
Doost did double duty on Tuesday's 10 p.m. edition. She had an extended story on Applied Behavior Analysis therapy for children with autism. And she returned later with a shorter dispatch on "black market breast milk." The autism story was far more interesting and affecting.
CBS11 threw in a clinker on exercises meant to rid women of what reporter
Tracy Kornet
termed "the dreaded saddle bag." That's extra flesh around the thighs, which prompts a suggestion to trim this sort of fat from newscasts and give Kornet something better to do.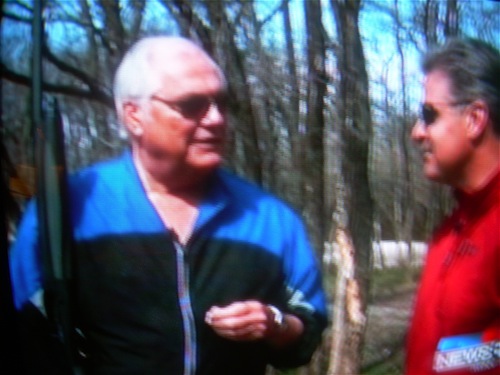 Cheney redux? Sports anchor Dale Hansen went skeet-shooting with weather pal Pete Delkus,who's an avid hunter of live creatures, too.
AND IN OTHER NEWS . . .
WFAA8's
Steve Stoler
had a story on a Princeton, Texas family that won $10,000 on ABC's
America's Funniest Home Videos
with footage of their daughter inadvertently sticking a rectal thermometer in her mouth to take her temperature.
"I guess the $10,000 leaves a little better taste in your mouth," observed co-anchor
Gloria Campos
, who then cackled while crickets kinda chirped.
A few minutes later, the station treated viewers to footage of sports anchor
Dale Hansen
and weathercaster
Pete Delkus
on a skeet-shooting expedition.
Hansen refrained from plugging Delkus while he had the chance, and instead successfully hit two clay targets after a lesson from Pete. Pete then plugged his upcoming Park Cities Quail Unlimited banquet, which is a charity function.
WFAA8 still does the market's best high school sports stories, though, with Hansen making sure there's room for them. On Tuesday,
Ted Madden
had a nice piece on the rejuvenation of little Nocona's high school basketball team under the direction of former longtime Skyline coach JD Mayo.
***
NBC5 was bitten hard by the word play bug in stories about bigger ambulances being ordered for fatter patients and on a study that says zinc can shorten the duration of common colds.
Night Ranger
Scott Gordon
did the ambulance dispatch, which included the usual below-the-chest videos of oversized stomachs and behinds.
"I can tell you that it's -- no pun intended -- it's growing," MedStar ambulance driver Matt Zavadsky said of the increase in heavy loads.
Then it was Gordon's turn to lob in a reference to the " 'growing' population" of heavy-set patients.
Then it was co-anchor
Kevin Cokely
's turn: "Like you said, big changes. Thanks, Scott."
Then it was reporter
Ellen Goldberg's
turn. The effectiveness of zinc is "nothing to sneeze at," she told viewers.
Havin' way too much fun with these daily compendiums. On the other hand, only three more nights to go. Or as the rug said to the floor, "I got you covered."