UT grad Shama Kabani is new CW33 "Tech Zen"
06/23/11 01:43 PM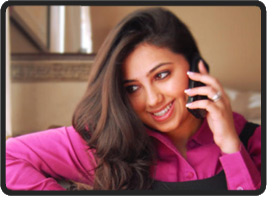 By ED BARK
Dallas-based CW33 continues to hang in there, with a never dormant revolving door still putting new spins on things.
The latest addition is Shama Kabani, whose weekly "Tech Zen with Shama" segments air on the station's 9 p.m. Monday newscasts. The 26-year-old, Dallas-based CEO of
The Marketing Zen Group
says on CW33's website that she "chose" her new employer "because they are the youngest skewing newscast in the market, and leader in social media coverage."
Kabani, a University of Texas at Austin graduate "will make an immediate digital connection with 33 News fans," news director David Duitch says in a publicity release.
As
previously posted
, new sports guy
Chase Williams
also is now with CW33, replacing longtime anchor/reporter David Crome. The latter is still named and pictured as part of the station's
"News Staff"
despite having
left the station in late April
and quickly re-booted with a media relations job at Texas Motor Speedway. Oh well, these things apparently take time. Williams isn't yet shown as a CW33 "News Staff" member, although he's been on the air for a few weeks now.