"Chopper Chip" no longer winging it, but still trafficking in freeway jams
08/20/08 10:58 AM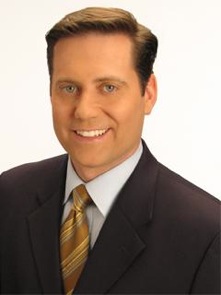 By ED BARK
The higher costs of flying high have led to a forced landing for D-FW television's last airborne traffic correspondent.
"Yes,
Chip Waggoner
is reporting from the ground now," Fox4 news director Maria Barrs confirmed Tuesday.
She declined further comment, but sources say that budget concerns are the overriding issue. Although they've recently dropped somewhat, hefty fuel costs are the latest bottom-line worries for stations that also have to feed gas-guzzling satellite trucks in pursuit of various live shots throughout North Texas.
Waggoner, who dubs himself "Chopper Chip" on the station's myfoxdfw.com web site, has been operating solely out of the studio since earlier this month. He's primarily featured on Fox4's early morning
Good Day
program, where fellow travelers Alexa Conomos (WFAA8), Tammy Dombeck (NBC5) and Teresa Frosini (CBS11) have long been helicopter-less.
Some Fox4 viewers have noticed the grounding. In an August 9th comment on Waggoner's Fox4 blog, "ProudAmerican" asked, "Why are you in the studio instead of high above the metroplex? You are not going to capture those high speed persuits (sic) in a studio. Get back in the air!"
After returning from vacation, Waggoner replied on Aug. 18th, "I'd love to ProudAmerican. I really would!"
All four major D-FW television news providers still regularly deploy choppers on an as-needed basis. A day seldom goes by without a blazing building crying out for an overhead shot.