This just in: A night in the lives of D-FW's late night newscasts (Fri., May 2)
05/05/08 10:59 AM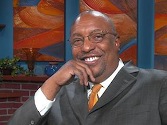 Fox4's James Rose, Jeff Crilley, Steve Noviello, Shaun Rabb
By ED BARK
Fox4 occasionally has been faulted in these spaces for seeming to mail in its end-of-the-workweek Friday newscasts.
They've sometimes been overstocked with video from outside sources and stories from other Fox-owned stations. Not so with the latest Friday edition, which was well-fortified with a mix of innovative, touching and provocative staff-driven pieces.
The station led its 9 p.m. newscast with the jaw-dropping jailhouse comments of a very unrepentant Mesquite man who on Wednesday shot his wife to death and wounded two of their children before turning himself in.
Michael Ray Turner remains "cold and callous," said reporter
James Rose
. He fronted the story after taking a late night handoff from Fox4 colleague
Scott Sayres
, who did the interview during his earlier shift. (Note: this is a common practice at other D-FW stations as well, but there should be some way to acknowledge the original reporter's work.)
Turner, who didn't talk to any other station, gave viewers a startling glimpse into the mind of a cold-blooded, deluded despot. One can argue the merits of giving him any kind of forum. But in this case, Turner made an air-tight case for his permanent incarceration -- or worse.
At the other end of the spectrum, reporter
Jeff Crilley
told of a five-year-old Garland boy who recently had a benign brain tumor removed from his skull. His parents bought him a Mastif to help with his post-operative recovery. But the dog then developed a tumor in her stomach that has left her skeletal and incapable of eating after losing 100 pounds. This was a real tearjerker. Crilley told the story both sensitively and compellingly before promising to keep viewers updated on an emergency operation that was in progress late Friday night, he said.
Also on Fox4, reporter
Shaun Rabb
had late night's only full, reporter-driven story on the tornado that ransacked parts of Canton, including the site of its famed "First Monday" trade days. He had a terrific selection of interviews, with telling photography to match. This was on-the-spot eyewitness reporting at its best, with "First Monday" set to proceed as scheduled after a considerable cleanup. Rival stations offered low-impact, anchor-recited briefs with accompanying video.
Fox4's
Steve Noviello
, in his weekly "On Your Side" segment, had an eye-opener on the inner workings of North Texas' 10 Goodwill stores. He went to a massive staging warehouse where some 25 million pounds of donations are sorted and/or discarded annually.
Noviello's tour guide said that 32 percent of donations have to be trucked away a second time at Goodwill's expense because they're too damaged to sell.
"Some $80,000 annually is spent hauling your trashed trinkets," he said. So some donors would be wise to clean up their acts. Enterprise stories such as these are well worth a viewer's time.
Fox4's
Lari Barager
later had an interesting and balanced report on a same sex wedding in Fort Worth held outside a national United Methodist Church convention to protest the exclusion of gay people from both membership and clergy positions. And the station capped things off with its usual extended Friday edition of the nightly "Viewers' Voice" segment.
It's often amazing -- and sometimes depressing -- to hear what some people think of the TV news coverage they've consumed. But on Friday night, their investments paid dividends.
AND IN OTHER NEWS . . .***
WFAA8 led its 10 p.m. news with
Gary Reaves
' report on efforts to curb violence in Dallas schools via a so-called "Peace Plan" aiming to enlist "mentors," student leaders and the media's help. He had some jarring statistics on an unnamed middle school that in just the past school year has recorded 2,176 "incidents," including 161 fights and nine assaults on adult personnel.
***
Its heavy crime story count has been downsized in recent months. But NBC5 still likes to ramp up the fear factor.
"A deadly bug is sweeping the nation at an alarming rate," anchor
Mike Snyder
proclaimed before foreboding music further set the stage for
Meredith Land
's report on C-dif (Clostridium Dificile) bacteria that can cause diarrhea and sometimes death.
Fellow news anchor
Jane McGarry
later picked up the baton, telling viewers that "a killer weed is attacking North Texas wildflowers and could soon move to your wallet."
***
CBS11 had solid and affecting efforts by
Steve Pickett
and
Joel Thomas
, both of whom reported on family tragedies.
Pickett attended a candlelight vigil and interviewed the mother and sister of Arlington barbershop owner John Jackson II, who died outside his place of business while trying to stop a punk from stealing his car. His barber chair was covered Friday by a black shroud and a bouquet of white roses.
Thomas followed up on the station's earlier story about "Baby Lydia," who needs a heart transplant and has been hospitalized since her birth three months ago. Her parents, who have three other children, abruptly were evicted from their home after falling behind on rent payments due to the heavy medical bills they're also trying to absorb. Their only place to stay at present is their daughter's hospital room.
***
CBS also continued pandering to women viewers with
Brooke Richie
's story on yet another new diet book. Or as anchor
Karen Borta
teased, "Only on CBS11 news. The flat belly secret." Wisely -- for now at least -- rival stations let CBS11 have this one to itself.
***
NBC5 sports anchor
Newy Scruggs
aimed a rare opinion at Snyder and McGarry after finishing up Friday. He noted that the No. 1-seeded Boston Celtics were facing a seventh playoff game Sunday (which they easily won) against the upstart No. 8 Atlanta Hawks.
Celtics coach Doc Rivers had better be wary because "you get fired when you don't win games like that," Scruggs said. "As Avery Johnson can attest."
"Kinda like TV," rejoined McGarry before chortling for what seemed like an eternity, but was only a few seconds. Hmm, stay tuned.
Thirteen nights to go.