Reporter/anchor Marcus Moore leaving TEGNA8 after a nearly six-year stint
09/15/17 02:37 PM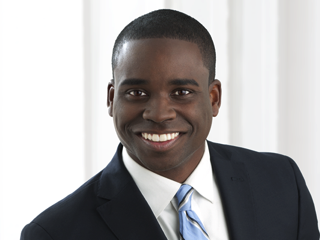 By ED BARK
@unclebarkycom on Twitter
It's been a relatively slow year so far in terms of departures from D-FW's four major TV news providers.
But TEGNA8 is losing a significant presence in reporter/anchor Marcus Moore, who will be leaving at the end of September after joining the Dallas-based station in January 2012 as a reporter in the Fort Worth bureau.
Moore, who most recently reported extensively from the scene of Hurricane Harvey, told unclebarky.com Friday that "right now I cannot confirm where my next move will be." But numerous sources say he won't be going far. Moore will be joining ABC News' Dallas bureau.
Moore otherwise had glowing words for the station he's leaving.
"I was in the 5th grade when I discovered I wanted to be a journalist," he said in an email response. "Even as a kid growing up in College Station, I was well aware of WFAA-TV and I set my sights on joining its team of distinguished journalists. In fact, as a junior in high school I took a picture in front of the station and said, 'One day I'll work here.' It was my hope and my goal."
Moore praised the station's photographers, reporters and production crew as "lifesavers."
"I also could not have known how the friends I'd make at WFAA would impact my life. Because of them, I am leaving as a stronger journalist and I think, a better person," he said. "This station has given me every opportunity to grow and to be the absolute best journalist I can be. For that, I am eternally grateful and will miss the people so much."
During his final months at the station, Moore has anchored weekend
Daybreak
in addition to rotating through weekday editions of that early morning program and the station's 4 p.m. newscasts. For a while he also co-anchored the 4 p.m. news with Shelly Slater, but Moore's principal strength was as a field reporter.
He arrived in North Texas after a six-year career at Kansas City's KMBC-TV as a reporter and fill-in anchor. During an earlier stint at WAPT-TV in Jackson, Mississippi, Moore filed live reports from the Gulf Coast as Hurricane Katrina made landfall. His recent reporting on Hurricane Harvey cemented ABC News' decision to hire him.
Courtesy of Moore, here is the high school picture which he earlier referenced.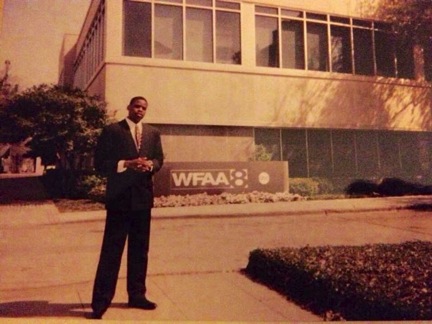 Email comments or questions to:
unclebarky@verizon.net