Jepson's first words -- post-WFAA8
09/03/08 10:07 AM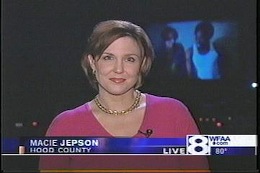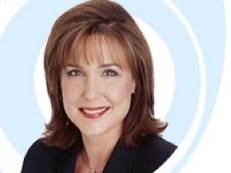 Jepson in earlier days at WFAA8 and in latter day station photo.
By ED BARK
Former WFAA8 anchor/reporter
Macie Jepson got the news
on Aug. 21st that the station had cut her loose after eight years.
Shaken by the sudden termination, she declined all comment until now. A followup interview is planned, but here are her first thoughts, sent via email, on being dropped as WFAA8's 5 p.m. co-anchor after joining the ABC station in 2000:
"I've wanted to send this for days, but it was important that I let the dust settle. As you can imagine, the final draft is tempered. But the people closest to me insist this approach is more graceful.
"I loved my job at WFAA. I loved -- truly loved my co-workers. My friends. I am thankful my WFAA career ended on the top. I am proud of the work we did and enjoyed it immensely.
"Many thanks to everyone for your kind words and prayers. I've read a few of your blogs and am grateful. Blessed really. I am pleased that I will be remembered as a 'real' person who delivered your news of the day with compassion and conviction. I believe those qualities are still important and can serve me well on the air again in the Dallas/Fort Worth area.
In the meantime I've already enjoyed spending extra time with my husband and daughters, who are
the real blessings in my life.
As always I wish everyone the best and thanks to all for making my time at WFAA so enjoyable.
"Thank you for allowing me some 'down time' to regroup and make decisions about my next career steps. Please keep me and my family in your prayers."
Jepson was the only full-time on-camera employee dropped by WFAA8 as part of an elimination of 14 positions. Ten of them had been vacant and now won't be filled. Another three were part-time positions, according to station management.
"This a reflection of very difficult economic times, and we have endeavored to minimize the impact on people," WFAA8 president and general manager Mike Devlin said in a telephone interview at the time.
Devlin and news director Mike Valentine said they will have no further comment on Jepson's situation.