Showman George Schlatter eminently qualified to receive Dallas VideoFest's Kovacs Award
10/10/13 09:25 AM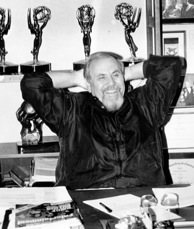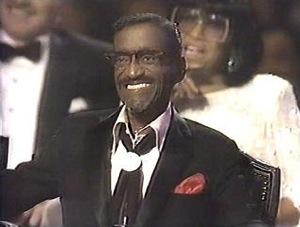 George Schlatter enjoys his Emmys but took more joy in honoring others, including Sammy Davis Jr. Schlatter's the latest recipient of Dallas VideoFest's Kovacs Award, which has been revived this year.
By ED BARK
Producer George Schlatter rightly is best known as the architect of
Laugh-In
, the innovative, frenetically paced joke-a-thon that introduced American audiences to the likes of Lily Tomlin, Goldie Hawn and the Flying Fickle Finger of Fate Award.
It ran from 1968-'73 on NBC, ranked as prime-time's No. 1 show in its first two seasons and is the principal reason Schlatter, 80, will be presented with the
Dallas VideoFest's Kovacs Award
on Friday, Oct. 11th. Revived this year, the honor also has gone to Joel Hodgson, Terry Gilliam, Robert Smigel, Paul Reubens, Martin Mull and Mike Judge.
Schlatter's behind-the-scenes artistry, and his ability to both recognize and gather talent, go well beyond
Laugh-In
, though. And never more so than on the night of Feb. 4, 1990, when ABC telecast
Sammy Davis Jr.'s 60th Anniversary Celebration
. The three-hour show aired less than three-and-a-half months before Davis' death from throat cancer on May 16 of that year. But he was front and center on that night, witnessing the greatest outpouring of show biz luminaries in the long history of TV specials. It rightly won an Emmy in the "Oustanding Variety, Music or Comedy Special" category.
I reviewed the show at the time and re-watched it recently. Eleven of the participants, including Davis, are now deceased. And that roster alone is beyond imposing. Frank Sinatra opened the show and Ella Fitzgerald closed it. Michael Jackson performed and Gregory Hines, in the night's most enduring segment, coaxed Davis onstage for a little tap dance competition. Dean Martin, Gregory Peck, Richard Pryor, Bob Hope, Whitney Houston and Nell Carter likewise are no longer among us. But all were very much there for Sammy Davis, Jr.
Eddie Murphy, then at the top of his game, hosted the program, which also included onstage appearances by Bill Cosby, Clint Eastwood, Shirley MacLaine, Goldie Hawn, Stevie Wonder, Magic Johnson, Dionne Warwick, Quincy Jones, Debbie Allen, Diahann Carroll, Anita Baker, Mike Tyson and Tony Danza. Joined by his wife, Altovise, Davis couldn't have looked happier or more touched. And it was principally George Schlatter who brought this constellation together. I can't think of one living, able-bodied person who absolutely should have been there, but wasn't. Schlatter gathered one and all. And we've seen nothing like it since.
Schlatter also produced the first seven Grammy Awards telecasts, the first one back in 1964 on NBC. He launched the long-lasting American Comedy Awards, which had a TV home for 15 years, and the short-lived Comedy Hall of Fame specials, which ran for just two years.
Besides the stellar special for Sammy Davis Jr., Schlatter has produced anniversary tributes to Sinatra (on his 75th birthday) and Muhammad Ali (on his 50th and 60th birthdays). Add
A Party for Richard Pryor
(in 1991 on CBS) and American Film Institute Lifetime Achievement salutes to Dustin Hoffman and Harrison Ford (1999 and 2000). For better or worse, he also produced NBC's
Real People
, a long-running trailblazer in the "reality" show genre.
Despite all this, Schlatter still awaits induction into the Television Academy of Arts & Sciences Hall of Fame, which has now snubbed him for 22 years. That's not a criminal offense, but it's certainly an embarrassing oversight that needs to be remedied.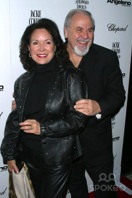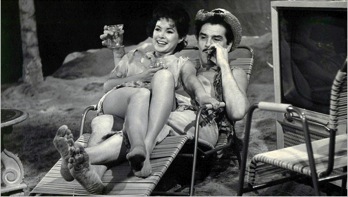 Jolene Brand with George Schlatter & on The Ernie Kovacs Show.
Schlatter will be re-appreciated on Friday night, however. And he has a direct link to Ernie Kovacs via his wife, Jolene Brand. She regularly appeared on early episodes of
The Ernie Kovacs Show
, which had two incarnations in the 1950s on CBS and then NBC.
Schlatter and Brand have been married since 1956, with their union pre-dating his first television credit in 1960 as "Talent Coordinator" on
The Dinah Shore Show
. Three years later he was producing the first five episodes of
The Judy Garland Show
before helming Jonathan Winters' first TV special in 1964.
All these years later, few if any have a richer TV history than George Schlatter.
Laugh-In
was his motherlode. But the befores and afters also were something to behold.
We'll close with two clips. One is the extraordinary last tap between Sammy Davis Jr. and Gregory Hines. The other is Jolene Brand cooing a weather report on
The Ernie Kovacs Show
. And I hope to see you at the
George Schlatter tribute
.
Email comments or questions to:
unclebarky@verizon.net