Local Nielsen ratings snapshot (Tues., Jan 25) -- State of the Union address survives NCIS rerun
01/26/11 11:43 AM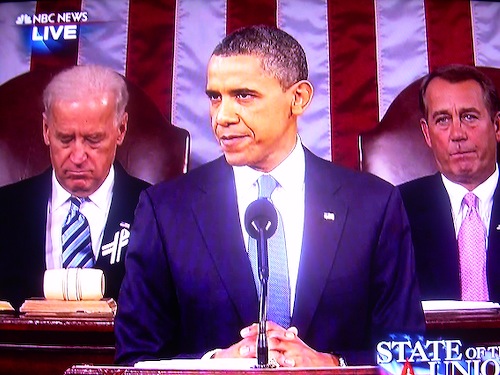 President Obama with backdrops Joe Biden and weepin' John Boehner during Tuesday's State of the Union address. Photo: Ed Bark
By ED BARK
D-FW viewers first flocked to CBS' NCIS rerun Tuesday night before many settled in for President Obama's State of the Union address on a variety of outlets.

NCIS drew 360,136 viewers in the 7 p.m. hour, a total that amounted to well more than half the president's total audience on the Big Four broadcast networks (ABC, CBS, Fox, NBC). Luckily for Obama it wasn't a new episode.

The speech started at 8:11 p.m. and stretched to 9:13 p.m. Senators and congressman sought to ease party tensions -- for a night at least -- by co-mingling with one another rather than sitting in the traditional Republican and Democratic sections. John Kerry, the 2004 Democratic presidential nominee, sat beside 2008 Republican standardbearer John McCain to form the night's uncontested losers' bracket.

Here's the total viewers breakdown in D-FW for the State of the Union speech:

CBS -- 200,845
ABC -- 159,291
Univision -- 138,514
Fox -- 131,588
NBC/Fox News Channel -- 117,737 each
CNN -- 62,331
MSNBC -- 27,703
PBS -- 13,851
CNBC -- 3,463

Hand-held calculator technology says that's a grand total of 973,060 viewers on 10 networks. Which is well short of the audiences for either of Sunday's pre-Super Bowl championship matchups on Fox and CBS.

Over on Fox Sports Southwest Tuesday night, the Dallas Mavericks' rough-and-tumble comeback home win over Blake Griffin's L.A. Clippers pulled in a respectable 145,440 viewers.

In local news derby results, WFAA8 swept a downsized 10 p.m. competition in total viewers and 25-to-54-year-olds, the main advertiser target audience for news programming. (CBS11 was delayed by a Big Bang Theory throw-in.)

Fox4 returned to the 6 a.m. winner's circle by nipping arch rival NBC5 in total viewers and winning more comfortably with 25-to-54-year-olds.

Fox4 also took the 5 and 6 p.m. races in the 25-to-54 demorgaphic and tied for first place at 5 p.m. in total viewers with WFAA8. CBS11 had the 6 p.m. gold in total viewers.