Henderson quietly makes KTLA debut
03/23/09 05:37 PM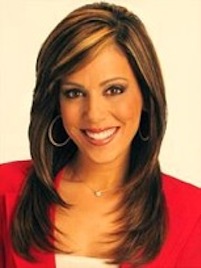 Megan Henderson in last Fox4 photo
By ED BARK
Her new station hasn't posted her picture and bio on its Web site yet. But former Fox4
Good Day
co-anchor Megan Henderson is on the air at
KTLA-TV
in Los Angeles.
She began work Tuesday, March 17th on the 5 to 7 a.m. shift, Henderson said by telephone Monday. "It's kind of an under-the-radar debut, which is fine with me."
The opposite was true on
Good Day
, which had a "Meet Megan Monday" when she joined Fox4 in August, 2003.
Henderson, who left Dallas-based Fox4 on Feb. 27th, is teaming with holdover anchor
Asha Blake
.
"It's kind of a chick show so far," Henderson says. "She's such a pro and has been around for a while. Everyone's been really, really kind to me -- beyond wonderful."
She's already found accommodations, staying in a "friend of a friend's high rise" for a year. It's near the station, and her 10th floor view includes the famed HOLLYWOOD sign.
"It's awesome," Henderson says. "I really lucked out with it."
Henderson was raised in nearby San Clemente, which makes her new job at KTLA a homecoming as well.
"I miss my friends in Dallas and I miss
Good Day
," she says. "But I've been so blessed because it's been a really smooth transition. I'm kind of waiting for the bottom to fall out from under me, but I'm happy to be home. I went to a funeral the other day for an old family friend that I never would have been able to go to otherwise."
Henderson said she'll also do some reporting "here and there" for KTLA, whose daily morning programming currently stretches from 5 to 10 a.m.
"There's a good chance we may go even earlier," she said, still sounding happy at the prospect.