This just in: a night in the lives of D-FW's late night newscasts (Fri., Feb. 8)
02/10/08 05:31 PM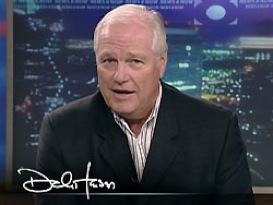 Dale Hansen couldn't resist going to bat for Debbie Clemens.
By ED BARKDale Hansen
has lost ample weight of late, which still doesn't stop him from acting like a fathead.
The always opinionated WFAA8 sports anchor has been applauded in these spaces for being unafraid to speak his mind. But he's out of bounds when he makes his wife fair game for a boorish, sexist comment that he then laughs off while the station's co-anchors play along.
On Friday's 10 p.m. newscast, Hansen reported another ugly turn in the battle between Roger Clemens and former trainer Brian McNamee. The latter now contends that he also injected Clemens' wife, Debbie, with steroids before she posed with the fabled pitcher in
Sports Illustrated
's 2003 swimsuit issue.
Hansen gave viewers an eyeful of the above photo before making one of the more ill-considered comments of his long and colorful career.
"Looking at this picture makes me think I need to call McNamee and see if he can meet with the lovely Mrs. Hansen," he told viewers. "Because she doesn't look like this."
News anchor
Gloria Campos
mustered an "Ooh" before Hansen made a mischievous face while weatherman
Pete Delkus
guffawed.
"See, Pete gave me that line," Hansen joked.
"It's OK. You just love sleeping on the couch, don't you?" Campos rejoined jovially.
"Gloria," said Hansen, "I've been doing this for 27 years. Every guy out there was thinkin' it. I'm the only one dumb enough to say it."
Anchor
John McCaa
, always the least comfortable in these situations, said his thought were that Hansen "is going to be in a whole lot of trouble." This prompted another round of chortling.
McCaa repeated that line in the newscast's closing seconds. Hansen of course could have cared less.
"I'll sleep on the recliner like I usually do," he said.
Sorry, but making your wife the butt of a steroids joke should be beneath both Hansen and the No. 1-rated newscast he regularly spikes with provocative "Unplugged" commentaries. There's no problem when they're confined to sports. But as someone who usually appreciates his candor, this was a damned dumb thing for Hansen to say. He shouldn't feel smug or good about it.
And in other news . . .***
The Fox network's Friday night ratings performance has been dismal for years. Unfortunately, Fox4 regularly chooses to mail in that night's 9 p.m. local newscast. It did so again, so let's just respond in kind and move on.
***
NBC5's
Brian Curtis
trilled about a Web site that supposedly pays off with thrilling savings at the grocery store in return for a relatively small fee. A lone shopper used as evidence knocked her grocery bill from $178.30 to $97.37, he reported. Again, this seemed much more like an infomercial than a news story. As do too many of Curtis' reports.
***
On CBS11,
Katherine Blake
had an interesting story on the surprising amounts of alcohol found in energy drinks that have become increasingly popular with teens. And reporter
Joel Thomas
managed to pull off a UFO story tied to the recent saucer-mania in Stephensville. He took viewers back to a series of pre-airplane sightings in 1897, with newspapers of the day chronicling what seemed to be strange doings up in the otherwise virginal skies.
***
WFAA8 investigator
Byron Harris
laid into the Iverson Business School, with three former students and an ex-school administrator proclaiming it a fraud. The school, of course, declined to answer any questions. But Harris seemed to make a solid case.
Gary Reaves
, another WFAA8 vet, later had a worthy look at the Blue Shoe Project, which is dedicated to keeping both blues music and its history alive for new generations.
It's far better to invest time in these types of stories than to keeping ripping and reading from the police blotter. Night in, night out, WFAA8 is virtually alone in bypassing most of D-FW's daily dose of violent crime. This is a very big viewing area. Lots more goes on.