Cowboys routed, but key first quarter cave-in clearly set the tone
01/17/10 10:22 PM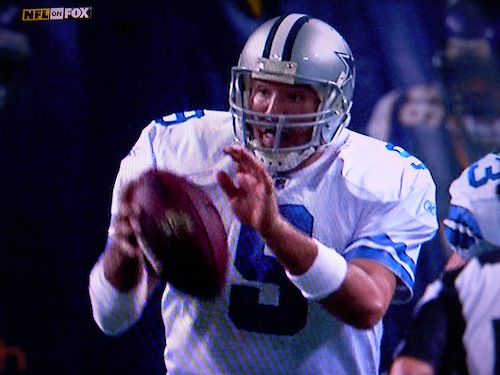 His confidence shaken and again under duress: Tony Romo prepared to throw a debilitating interception late in 3rd quarter. Photo: Ed Bark
By ED BARK
Every loss has a root cause. And for me, the beginning of the end for the Cowboys Sunday was the boneheaded, momentum-sucking decision NOT to go for it on 4th and 1 just outside the Vikings 30 yard line with 5:48 left in the 1st quarter.
The score was still 0-0, and Dallas had been moving the ball. But the brain trust instead sent in wobbly Shaun Suisham to try a 48-yard field goal.
Suisham, clearly not the team's kicker of the future, predictably missed it wide right. A few plays later Minnesota QB Brett Favre hit receiver Sidney Rice with a 47 yard touchdown pass. Vikings 7, Cowboys 0. You could see Dallas deflate and the offense lose confidence. NEVER play that conservatively when you're on the road against an offensive powerhouse.
But in these key early moments, the coaches put the ball on Suisham's foot instead of in Tony Romo's hands. It sowed the seeds of an eventual 34-3 drubbing in which the defense pretty much held up for three quarters while an increasingly rattled Romo ran for his life in the face of a fearsome pass rush. In the early going, though, Dallas' offense had Minnesota on its heels. But on fourth and one, the team went to the old soft shoe instead of continuing to play smash-mouth.
That said, Favre was sensational throughout, never making the key mistakes he used to make against the Cowboys when he played for the Packers. At age 40 he was nimble, quick and completely in charge. His second touchdown pass to Rice, in which he first ducked an onrushing defender, was another of the game's defining plays.
Some will want to fire head coach Wade Phillips, but that's not the answer. What the team and Romo really need is a third go-to receiver to complement Jason Witten and Miles Austin. That's obviously not Roy Williams, who likely has played his last down for the Cowboys. He was less than a no-show Sunday. In fact, to my knowledge, Fox commentators Joe Buck and Troy Aikman never even mentioned his name.
The Cowboys' first blowout loss of the season wasn't the day's most painful, though. The San Diego Chargers, allegedly the NFL's hottest team, went one and out with a shocking home loss to the New York Jets.
In Dallas' case, the Vikings likely are the better team -- when playing on their home field at least. But what if the Cowboys had been able to take a 7-0 lead at gut-check time rather than bank on Suisham to kick a long FG?
We'll never know. And that's the real shame of it all.