Fox4 news is most-watched during Thursday night's continuous coverage of police ambush in Dallas
07/08/16 01:49 PM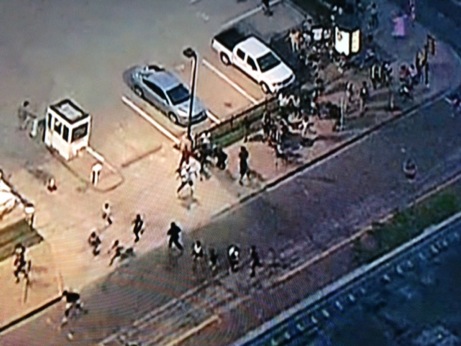 Panic in the streets after shots rang out Thursday. Fox4 image
By ED BARK
@unclebarkycom on Twitter
First and foremost, all four of D-FW's major TV news operations for the most part performed ably under extreme duress during a Thursday night horror story that left five Dallas officers dead and seven others wounded by a sniper or snipers.
Fox4, NBC5, TEGNA8 and CBS11 all broke in with continuous live coverage shortly after 9 p.m. My ongoing reactions are on
Twitter
, as are some of yours if you happen to be a follower or interested party.
Although it's not reflected in the ratings, CBS11 had the overall strongest coverage from this perspective. Anchor Doug Dunbar stood out, in part because he was soloing while Fox4, NBC5 and TEGNA8 had multiple people in their studios. One voice of authority oftentimes works better in these circumstances than anchor "clutter." In Dunbar's case, co-anchor Kaley O'Kelley had the night off.
CBS11 also led in coverage of the Hughes brothers, Cory and Mark, who now are very much in the national news as well. The latter brother was pictured and labeled a "suspect" in an official Dallas Police Department Twitter post. CBS11's Ken Molestina was the first to interview Cory, a protest march leader and organizer who emphatically said his arms-bearing brother had nothing to do with the shootings. And CBS11's Robbie Owens later exclusively interviewed both brothers after Mark Hughes had been questioned and released. He earlier had voluntarily turned his weapon over to police, as a video showed.
Mark Hughes, who wore a "camo" shirt, was carrying his weapon both legally and very visibly. That didn't show an abundance of common sense on his part. Still, he didn't deserve to be branded a "suspect" whose picture was widely circulated both locally and nationally before police downgraded him to a "person of interest." Not surprisingly, the Hughes brothers now have an attorney.
Fox4 reporter Shaun Rabb, who kept insisting that Dallas police had never called Mark Hughes a "suspect," was clearly wrong about that. But he was right in first reporting that a sniper holed up at El Centro college had been killed by police.
Rabb was heavily used by Fox4, and not always to optimum effect. His reporting sometimes sounded like preaching. But perhaps that's what many viewers want these days -- a reporter whose emotions are raw and, for the most part, unchecked. The hour-by-hour D-FW Nielsen ratings say that Fox4's coverage had and kept the largest viewership in the two key measurements -- total viewers and 25-to-54-year-olds (the most valued news audience for advertisers). Rabb has been around the block and then some, with 26 years as a Fox4 street reporter. He's going to do it his way. And on Thursday night, viewers again got both the good and the bad from Rabb, whose speculations clashed with his insights.
Here are the hour-by-hour local newscast ratings -- from 9 p.m. to 2 a.m. -- in total D-FW viewers and 25-to-54-year-olds.
9 to 10 P.M.Total Viewers
Fox4 -- 254,966
TEGNA8/CBS11 -- 120,401 each
NBC5 -- 106,236
25-to-54-Year-Olds
Fox4 -- 133,934
NBC5 -- 60,121
TEGNA8 -- 58,038
CBS11 -- 26,787
10 to 11 P.M.Total Viewers
Fox4 -- 290,378
TEGNA8 -- 226,637
NBC5 -- 191,225
CBS11 -- 155,813
25-to-54-Year-Olds
Fox4 -- 175,602
NBC5 -- 101,194
TEGNA8 -- 98,218
CBS11 -- 44,645
11 P.M. to MidnightTotal Viewers
Fox4 -- 276,214
TEGNA8 -- 184,142
NBC5/CBS11 -- 148,730 each
25-to-54-Year-Olds
Fox4 -- 178,578
NBC5 -- 95,242
TEGNA8 -- 83,336
CBS11 -- 59,526
Midnight to 1 A.M.Total Viewers
Fox4 -- 283,296
CBS11 -- 99,154
NBC5/TEGNA8 -- 77,906 apiece
25-to-54-Year-Olds
Fox4 -- 172,625
NBC5 -- 47,621
TEGNA8 -- 44,645
CBS11 -- 38,692
1 to 2 A.M.Total Viewers
Fox4 -- 177,060
TEGNA8/CBS11 -- 56,659 each
NBC5 -- 42,494
25-to-54-Year-Olds
Fox4 -- 104,171
NBC5/TEGNA8 -- 32,739 each
CBS11 -- 17,858
Comments:
Fox4's dominance among 25-to-54-year-olds is eye-popping. From midnight to 2 a.m., the station had more viewers in this key advertiser demographic than NBC5, TEGNA8 and CBS11 combined.
NBC5 was the overall second choice among 25-to-54-year-olds, knocking TEGNA8 into third place. CBS11 had a few moral victories, running second from midnight to 1 a.m. in total viewers and tying TEGNA8 for the runner-up spot in that measurement from 9 to 10 p.m. and from 1 to 2 a.m.
But Fox4 set a runaway pace all the way from 9 p.m. to 2 a.m. in both ratings barometers. On a terrible night for both the city and the Dallas Police Department, it clearly was the news station of choice.
Email comments or questions to:
unclebarky@verizon.net