Former D-FW television news photogapher finds a picture-perfect niche
10/07/09 02:14 PM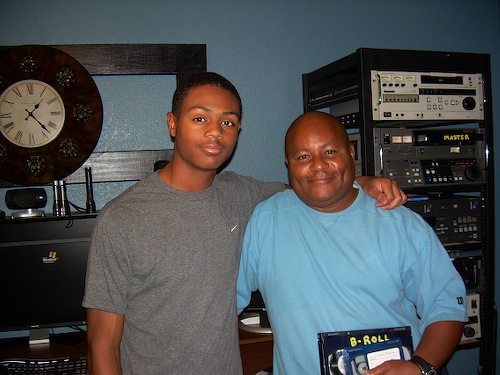 Former local TV photographer Gregg Primus and his son, Gregory, at Just DVD It! headquarters in their Arlington, TX home. Photos: Ed Bark
By ED BARK
ARLINGTON -- It seemed pretty grim at the time. But Gregg Primus says he owes his business acumen to the boss who sacked him after nine years spent as a photographer at Fort Worth-based NBC5.
"We were clashing big-time, so he found a way to fire me," Primus says of his oil-and-water relationship with then news director David Overton. "To this day I wish I could find him to thank him for that. What he did was light a fire under my butt."
It was June of 1992, and a newly married Primus had little money in the bank. So he freelanced "here and there," cut grass and painted houses.
"I did whatever I had to do," he recalls. "My business mind got in gear."
He decided to become a freewheeling freelance photographer rather than being "locked down to one thing." In that vein Primus worked briefly for Dallas-based WFAA8's now defunct
Metro
program and then for a decade at D-FW's Fox4. Several years ago, a neighbor asked him if he could transfer one of his old VHS tapes to a DVD.
"At that time I didn't have any equipment, so I just did it at Channel 4," Primus says. "He was just floored. So that bell went off in my head. And from that point on, I've been buying equipment left and right."
We're talking in the low overhead corporate headquarters of
Just DVD It!
, which Primus, 53, has operated out of his home for the past couple of years. Bring him your oldie, moldy VHS or Beta tapes, and he'll put them on a shiny disc. Son Gregory, 16, edits when necessary, but only as a temporary, after-homework employee of his dad. As an adult he plans to become a pilot.
"Welcome to the new reality -- working out of the house," the elder Primus says. There's a lot of this going around, in media circles and otherwise. Many of his newfound clients are anchors or reporters looking to preserve their career highlights -- or acting out of self-preservation in case they're suddenly downsized.
"I've gotten quite a number of people looking to put together a resume, and you can understand why," Primus says. "Everybody's laying off."
Primus' most prominent client to date is veteran Fox4 anchor Clarice Tinsley, who by his count has sent Just DVD It! 150 to 200 tapes from her more than 30 years at the Dallas-based station.
Tinsley is documenting her career for posterity -- and before many of her old industrial-sized Beta tapes decay beyond repair.
"Tapes are just disintegrating -- even when they're put on a shelf and are just sitting there," Primus says. "If you leave your stuff on tape, it might not be there. Tapes rot after 15 or 20 years -- or sooner."
Other TV clients have included Fox4 reporter Lari Barager, CBS11 news staffers Steve Dennis, Nerissa Knight and Sana Syed, and former Fox4 reporter Paul Adrian. Another Fox4 alumnus, reporter Jason Overstreet, sent Primus numerous boxes of archival tapes from the Arlington-based United States Bowling Congress, where he's now employed as director of public relations.
"It may take me a couple of years to do that project," Primus says.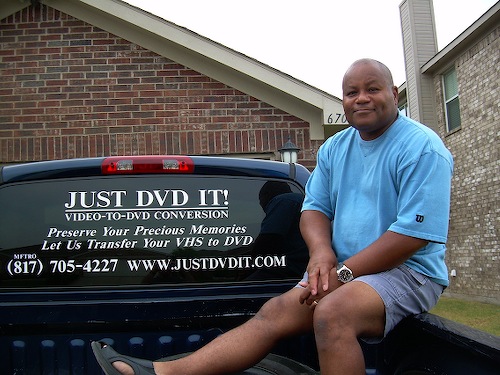 Entrepreneurial spirit: Primus is happily getting the word out.
Many TV stations have been converting to a tapeless digital format while phasing out or junking their old equipment.
"You can't just go to the edit bay and transfer your stuff over anymore," Primus says. "The tape machines are gone, so they come to me because I think I may be the only one investing in old technology. That's why my broadcast industry business is really heating up."
Primus scours ebay for old-school equipment at bargain prices. Industrial Beta machines that used to sell for $19,000 brand new can now be had for $400 in good condition, he says. An engineer friend who still works at a D-FW station checks out the incoming equipment. It's like buying used cars, tire-kicking included. Primus says he recently scored a vintage industrial Beta tape machine for $300 at a Plano pawn shop.
He initially thought his business would mostly be standard consumer requests for wedding and family tape transfers from VHS to DVD. There's still a market for that, including one client who wanted Primus to up-convert his father's autopsy tape.
"I've had people come to me with pornography, too, and I told them we don't do that," he says.
The going rate is $25 for two hours of VHS tape transfered to a DVD. Most TV newsroom clients pay $40 for a broadcast/professional format conversion or $65 for a digital betacam transfer.
"It doesn't take a whole lot for me to do this, so I don't want to gouge anybody," Primus said.
Finding and keeping a new career such as this isn't what he had in mind after learning his camera skills as a "motion picture photographer" during a six-year hitch in the Marines. But Primus will take what he's given himself -- a gainful new business in times when a complete reinvention is sometimes the only answer.
"I expect an onslaught of business," Primus says confidently. If so, he's brought it on himself.