Local Nielsen ratings snapshot (Tues., May 31) -- Mavs blow well past 1 million mark in opening game loss to Heat
06/01/11 12:07 PM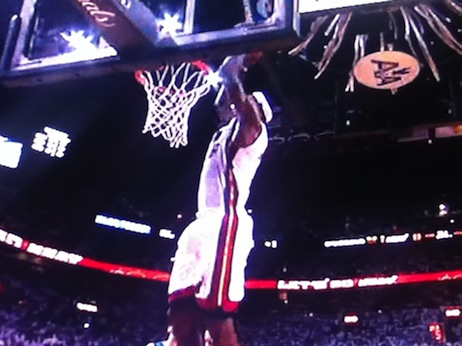 There was a bit too much of this Tuesday night. Photo: Ed Bark
By ED BARK
The Dallas Mavericks' opening game 102-94 loss to Miami Tuesday night in the NBA Finals sent the season premiere of NBC's
America's Got Talent
and a new episode of
The Voice
into semi-eclipse.
ABC's Game 1 telecast, which ran from 8:08 to 10:45 p.m., averaged a mega-sized 1,302,032 D-FW viewers. That's not far from the top audience for last fall's Texas Rangers-San Francisco Giants World Series. Its concluding Game 5 drew 1,433,620 viewers.
Mavs-Heat peaked at 1,461,322 viewers between 9:45 and 10 p.m. Among advertiser-craved 18-to-49-year-olds, the game averaged 697,607 viewers overall, with a high of 822,650 in the closing 15 minutes. Those are to-die-for demographics that far exceed those of the Oscars,
American Idol
and just about everything except the Super Bowl. Which makes the NBA pretty much the greatest show on earth for advertisers looking to target "impressionable" younger viewers.
One more noteworthy Nielsen measurement: Game 1 averaged 214,232 viewers in the most elusive demographic of all -- 18-to-34-year-old males. In contrast,
America's Got Talent
had 26,340 of 'em for its two-hour Season 6 opener from 7 to 9 p.m. Then
The Voice
dropped off to 13,170 male viewers in this age range while CBS' competing 9 p.m. rerun of
The Good Wife
registered "hashmarks" (no measurable audience) and Fox4's 9 p.m. local newscast managed to lure 1,756.
America's Got Talent
ranked as Tuesday's second most-watched program with 332,434 total viewers. That put it almost one million viewers behind Mavs-Heat, but who's counting?
In local news derby results, NBC5 and CBS11 tied for first place at 10 p.m. in a downsized three-way field. Each averaged just 117,737 total viewers, with CBS11 alone atop the 25-to-54-year-old heap (favored advertiser target audience for news programming).
Fox4 and NBC5 split the 6 a.m. golds, with the Peacock winning in total viewers and Fox4 with 25-to-54-year-olds.
CBS11 ran first at 6 p.m. in total viewers, but WFAA8 claimed the rest of the early evening spoils with a 25-to-54 win at 6 p.m. and a sweep of the 5 p.m. Nielsens.