This just in: A night in the lives of D-FW's late night local newscasts (Wed., Nov. 9)
11/10/11 04:26 PM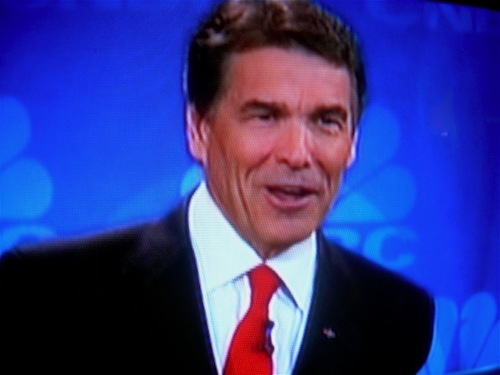 "Lemme see now, that's C-A- and, uh, uh . . . oops." Photos: Ed Bark
By ED BARK
Texas Gov. Rick Perry's debate malfunction hit the late night newscasts running Wednesday, with WFAA8 leading with it while Fox4, NBC5 and CBS11 all gave his gaffe nice showcases.
"Some are calling it political suicide," said WFAA8 co-anchor
Gloria Campos
after the station bull-rushed away from ABC's highly watched Country Music Association Awards and fired up two minutes before the appointed 10 p.m. hour.
She then tossed to political reporter
Brad Watson
, who said matter-of-factly, "Gov. Perry, who's admitted he's not a good debater, certainly confirmed that. Will this gaffe, though (unintelligible), cripple his already faltering campaign?"
The Republican presidential candidate's customized Stupid Human Trick came a few hours earlier during a CNBC debate in which he said that three federal agencies would be abolished under his administration. He ticked off the first two -- Commerce and Education -- before three times being unable to come up with the third.
More than 10 minutes later, when it was his turn again, Perry finally remembered that the U.S. Department of Energy would be his third target. Post-debate, as Watson noted, the guv told reporters he was "glad I had my boots on because I sure stepped in it."
Fox4 and CBS11 both deployed academics to opine that Perry has further damaged his chances to be the GOP nominee. Although you can never really be sure of anything in this wacky buildup to next year's presidential primaries. The next thing you know, Perry will be on Thursday's
Late Show with David Letterman
reading a Top 10 List. And
in fact, he will be
.
"I think it's a knockout blow," SMU political science professor Matthew Wilson told Fox4 reporter
Natalie Solis
during an in-studio interview segment.
On CBS11, longtime political analyst John Weekley sat down with reporter
Jack Fink
. Perry was "probably a little too relaxed this time," in Weekley's view. "He can't seem to get it just exactly right" during his continually panned debate appearances.
NBC5's
Omar Villafranca
went comparatively easy on Perry, saying that the governor "froze up onstage . . . We'll have to see how bad this hurts his campaign with voters."
All four stations also took another crack at the McKinney chiropractor accused of child sexual assault of at least two patients and possibly more.
NBC5 touted reporter
Ellen Goldberg
's exclusive interview with a teacher at the next-door Taylor Dance studio. She contacted the police, Carla Mullendore said, after one of her students said that Dr. David Allen Russell had improperly touched her during an examination for a groin injury.
The teacher allowed NBC5 to use her name, but didn't want her face shown on camera because "she says she's been the target of backlash," Goldberg said.
As with her Tuesday night report, Goldberg contacted Russell by telephone and reported his unequivocal denial of all charges. WFAA8's
Craig Civale
did likewise while CBS11 co-anchor
Karen Borta
said the station again had knocked on Russell's door at his private residence but received no response.
That's a bit of a cop-out, but much better than Fox4's treatment on its featured 9 p.m. edition. Reporter
James Rose
, who led the newscast, made no mention of Russell's denials -- or of any effort to contact him -- during Wednesday's story and in a followup live Q&A with co-anchor
Heather Hays
. That's inexcusable, which Rose knows. As should the station's off-camera editors and producers. But everyone let it slide in this case.
WFAA8 had Wednesday's two best stories -- both of them enterprise efforts.
Chris Hawes
reported on an autistic Arlington teenage girl who remains resilient and upbeat after contracting an exceedingly rare infection, termed by some as "swamp cancer." She lost her left leg after seven operations failed to cure her.
Later in the newscast,
Monika Diaz
reported from Austin on a private elementary school that bans classroom computers and TVs through the sixth grade. The old-school idea is to "prepare students for technology" by initially removing such barriers. A senior heading off to Princeton put it well. "You learn to interact with each other first," he said. "And then you learn to interact through media."
WFAA8's invariably resourceful
David Schechter
also had an interesting piece on a one-vote election in North Texas' Castle Hills "golf community." Developers were gifted with a tax-free $18 million bond windfall voted in by an assistant golf pro who took up residence in a golf course clubhouse to qualify as the only eligible voter. A disapproving judge told Schechter that people who buy new houses in the community eventually are hit with substantially higher property taxes that go toward paying off the bonds.
(The Margulies Communications Group, headed by former WFAA8 reporter David Margulies, sent an email Friday that termed Schechter's story "inaccurate and misleading." He said the station "made no attempt to contact Castle Hills owner or management before they ran the story."

Developers are "responsible for paying taxes to retire the bonds until the lots are developed and sold," Margulies said on behalf of Castle Hills. "This is the same financial mechanism that has been successfully utilized to turn a 2,500 acre farm into the Castle Hills community, which now has 2,600 homes and a tax base approaching $1.3 billion.")
Meanwhile, WFAA8 retains an odd if not bizarre interest in diet stories, though, even while in the midst of a weight discrimination suit filed by reporter/weekend anchor
Debbie Denmon
who still works for WFAA8. She contends that her plus-sized figure has been held against her by station management when it come to any promotion to a more visible anchor slot. Management has ignored all requests for comment.
On Monday night WFAA8 had a lengthy
Dancing with the Stars
diet story for which reporter
Shelly Slater
was sent to Los Angeles. Wednesday's edition included a "Weight Loss Breakthrough" reader by co-anchor
John McCaa
, who said that pounds now can be shed via a mere injection. So far this week, no other station has trotted out even one diet story on its late night newscasts.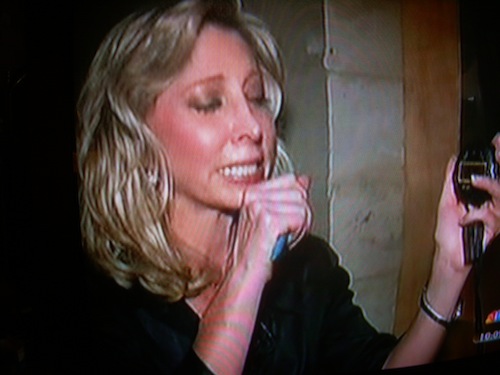 NBC5's Kimberly King coughs in a smoke-choked building during Part 3 of the station's "5 Nights That Could Save Your Life" series.
NBC5 kept rolling with its ratings "sweeps" feature, "5 Nights That Could Save Your Life." Wednesday's point person was new consumer/investigative reporter
Kimberly King
, who tested the response differences between ionization and photoelectric smoke alarms with help from the Glen Rose fire department.
Utilizing a rural "burn house," firefighters set an old couch on fire after mounting alarms of each variety. During two testings, the photoelectric devices went off first. In one case, there was an almost 10-minute lapse time before a second ionization alarm went off. King stood inside the building, telling viewers that "it's getting very smoky in here" between coughs.
Conclusion: Photoelectric technology is better, according to an expert. "I had no idea," co-anchor
Brian Curtis
said. Overall the report had some interesting and possibly valuable information.
Over on CBS11, reporter
Jay Gormley
had a decent story on the Dallas Symphony Orchestra's financial woes. Musicians are accept another pay freeze and the orchestra will be doing more concerts outside the city in an effort to build a bigger fan base, Gormley said.
The station also seems to be getting slap-happier with its featured anchors, perhaps copy-catting the almost nightly comedy stylings of WFAA8 weatherman
Pete Delkus
, sports anchor
Dale Hansen
and company.
On Wednesday's edition, all four of CBS11's personalities got together to chortle over a
Rains County Leader
crossword puzzle that included the clue, "Babe Laufenberg is this for Cowboys games (2 wds.)."
"Underpaid?" cracked Laufenberg, who does the radio commentary in tandem with Brad Sham's play-by-play. Anchor Borta, as she had on Tuesday night, unleashed another booming Campo-esque laugh.
Laufenberg also seems to be trying his hand at what the "Unplugged" Hansen's been doing for years. Namely, commentaries. He decried the Penn State/Joe Paterno mess Wednesday night, with a "Commentary" slug at the bottom of home screens and his "Babe Laufenberg" signature behind him.
He's definitely no Hansen -- not yet anyway.