Doocy's unintended doozy: veteran Fox4 sports anchor still on sidelines while trying to regain his voice
10/21/09 12:21 PM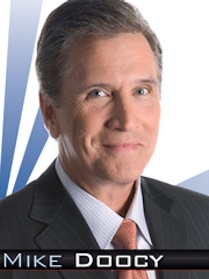 By ED BARK
Off the air for nearly a month, Fox4 sports anchor Mike Doocy remains uncertain of when he'll return. Meanwhile, inquiring readers want to know more.
"This has been a strange deal," he says in an email to unclebarky.com. "About a month ago, I had the bad cold/flu that so many people have been dealing with. Apparently the severe cough caused some vocal cord bleeding. I've been without much of a voice for better than two weeks now. I'm seeing a specialist who tells me the voice will return, but it needs more rest. So that's what I'm doing . . . I see the doc again later in the week, and we go from there."
Max Morgan, Fox4's only other full-time sports anchor/reporter, has been filling in with an occasional assist from news staffer Richard Ray.
"He's approaching a Ripken-esque streak for sportscasts," Doocy said of Morgan. "All of the guys in our sports department have been great."
Deep throat problems are not uncommon at the Dallas-based station. As
previously reported
in these spaces, anchor Baron James was off the air for more than two months after undergoing surgery to remove a growth from his larynx that had increasingly affected his speaking voice. He returned to Fox4 on Sept. 16th.
PROGRAMMING NOTE:
WFAA8 will preempt the 6:30 p.m. Friday, Oct. 23rd edition of
Entertainment Tonight
-- yay!!! -- for a half-hour special on Dallas' new AT&T Performing Arts Center.
Behind the Curtain
, hosted by Gary Cogill, "takes viewers on a guided tour of all parts of this impressive complex," the station says in a publicity release.
Cogill, who previously hosted WFAA8's
Good Morning Texas
, was
pulled from that show
in late July to become the station's full-time arts and entertainment reporter.
"Last summer we made a firm pledge to quality coverage of performing arts in North Texas," WFAA8 president/general manager Mike Devlin said in a statement. "And this broadcast special is part of that commitment."