NBC5 wins first ever Peabody award for "Big Buses, Bigger Problems" series
04/24/18 09:53 AM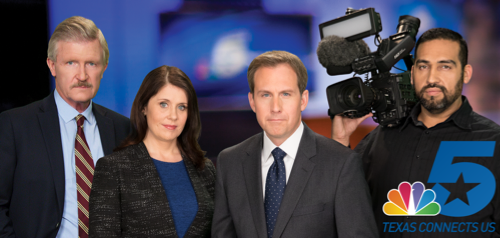 The Peabody-winning NBC5 team for "Big Buses, Bigger Problems." From left: producer Jack Douglas; producer Eva Parks; senior investigative reporter Scott Friedman; photojournalist Jose Sanchez.
NBC5 photo
By ED BARK
@unclebarkycom on Twitter
DFW's NBC5 has won its first ever prestigious George Foster Peabody award for an extended series of investigative reports titled "Big Buses, Bigger Problems: Taxpayers Taken For a Ride."
The final batch of honorees was announced Tuesday by the University of Georgia-based Peabody board of jurors. The NBC5 series "uncovered a wide web of corruption and staggering financial mismanagement, which led to swift action by the Texas government and voters," according to the official citation for the series. There are a total of 30 winners this year, with the awards to be presented at a May 19th ceremony in New York City hosted by Hasan Minhaj.
Veteran senior investigative reporter Scott Friedman was the point man for the series, with a team that included producers Jack Douglas and Eva Parks, and photojournalist Jose Sanchez.
"This is great recognition for some truly exceptional journalism. It was a team effort and we are proud," NBC5 vice president of news Mark Ginther said in an email response Tuesday.
In a
post last May on unclebarky.com
, Ginther said the station's biggest challenge in presenting the series was "being able to boil it down into a format where people can follow along, because of all the nuances and complexities."
"There are a lot of twists and turns to this whole web," Friedman said of "one of the more complex stories that I've ever been involved with."
NBC5 aired roughly 60 stories on what looked to be serious problems and possibly corruption within Dallas County Schools, the taxpayer-bankrolled agency in charge of the daily transportation of 75,000 North Texas students. The state legislature eventually got involved and gave voters the option of shutting down the DSC in the November 2017 elections. Which they did.
On May 24th of last year, NBC5 preempted the syndicated entertainment show
Extra
for a half-hour special on the "Big Buses, Bigger Problems" series.
NBC5 is the first D-FW station other than WFAA-TV (Ch. 8) to win a Peabody since KDFW-TV (Ch. 4) was honored in 1984 for a series titled "A Call For Help." Anchor Clarice Tinsley, who remains with the station, and reporter Fred Mays were cited as the principal contributors to the series.
WFAA had won several Peabody awards since then for investigations by Byron Harris and Brett Shipp, both of whom since have left the station.
Email comments or questions to:
unclebarky@verizon.net