An exit interview with WFAA8 anchor Gloria Campos
02/19/14 09:22 PM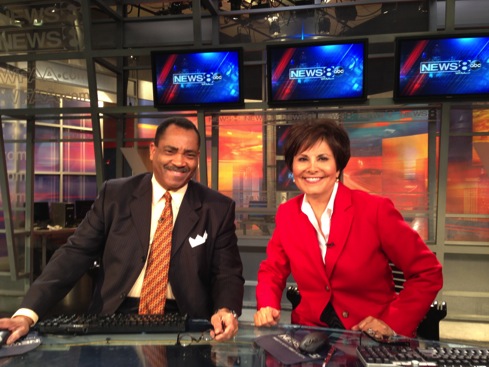 WFAA8 stalwarts John McCaa and Gloria Campos, who have been the station's featured 10 p.m. news anchor duo since August of 2002.
WFAA8 photo
By ED BARK
@unclebarkycom on Twitter
After quickly tweeting her official departure date as WFAA8's longtime 10 p.m. news anchor, Gloria Campos headed for Frisco Wednesday afternoon to work on a story scheduled to air on Monday's late night edition.
She returned to learn for the first time of all the
other anchor dominoes
that had fallen in her wake. And then Campos found out that the Dallas-Fort Worth chapter of the Alliance for Women in Media had named her this year's recipient of the Silver Award for Excellence. Quite a roller coaster of emotions for the 30-year WFAA8 veteran, whose last 10 p.m. newscast for the station will be on Friday, March 7th.
"What a day indeed! I'm exhausted," Campos emailed shortly before joining longtime anchor partner John McCaa at the 10 p.m. news desk.
As previously posted, this has been in the works for quite a while. Campos had lobbied as far back as 2008 for a cutback in her hours. She became a part-timer in August 2012 after dropping the 6 p.m. weekday newscast from her duties. Her final 18-month deal with WFAA8 will expire at the end of February 2014, but Campos, 59, and station management had been in talks about possibly extending her stay a bit after Gannett Co., Inc. officially took control of the station late last year.
In a telephone interview Wednesday night with unclebarky.com, Campos said there might well be a "next chapter" at WFAA8. But it won't involve anchoring unless she's asked to fill in on occasion. After March 7th, she plans to take a "sabbatical" with husband Lance Brown. "The station has to get through this transition right now," Campos said. "I know this for sure. I don't ever want to work full-time again, in the news business or any other business."
The spotlight transition at WFAA8 belongs to early morning co-anchor Cynthia Izaguirre, who will become McCaa's new 10 p.m. desk partner on Monday, March 10th while also joining the 5 p.m. edition. It's interesting how these things work out. For years, Campos juggled workplace demands and being a hands-on mother to her twin sons, Greg and Tony, who are now 20.
In April of 2012, Izaguirre became the mother of twins -- son Simon and daughter Karina. And for that reason, she initially declined to take the late night anchor position, still the prime plum at local TV stations across the land.
Izaguirre could not immediately be reached for comment. But Campos said she had "pretty much given up that it would be Cynthia" replacing her. WFAA8 interviewed several outside candidates before finally persuading Izaguirre to sign on.
"It's hard being in television and also being a mom of two kids," Campos said. "But working nightside is a special challenge." For that reason, her husband, also a journalist, eventually quit his job, she said. "That helped a lot."
Campos, the first Hispanic of either gender to be a full-time anchor of 6 and 10 p.m. newscasts in Dallas-Fort Worth, said that television news is "all I've ever wanted to do since I was in third grade. But I never planned on working this long. It just kind of happened."
She arrived at WFAA8 in 1984 from KGBT-TV in Harlingen, TX after first interviewing at D-FW competitors KDFW-TV (now known as Fox4) and KXAS-TV (NBC5).
In her later years at WFAA8, Campos said she's become more a "supportive mentor" (to Izaguirre, anchor Shelly Slater, reporter Rebecca Lopez and others) than an upwardly climbing anchor star.
"I'm the biggest cheerleader here at Channel 8 -- for a lot of people," she said. "Part of that comes with the maturity and the confidence you get with having been here as long as I have . . . I've tried to be here especially for the women in the news room, because that is not something I had" during her early years in TV news.
Campos' parents are both alive, but they're not doing so good," she said. Her father, 88, and mother, 82, both recently suffered falls. And as their oldest child, "they kind of look to me."
She'll have more time for that now. And doing the news at her age isn't the glamour job it used to be. Salaries and audiences have shrunk while the attendant "social media" demands just keep on coming. In addition, the news itself seems to be getting worse, Campos said.
"All of those things together made me think that this was the right time. I always thought the time to hang it up would be when I started being calloused about the news. But I'm even more affected by the tragedies, so it ended up being just the opposite.
"There have been nights when I've driven home crying. The news was just unbearable. I won't miss that part."
Email comments or questions to:
unclebarky@verizon.net